It's the time of year where you are starting to get reacquainted with your old friend, Canvas. In this post Your Canvas Support Team provides some of our favorite tips and tricks to help get you rolling and reduce potential problems for you and your learners.
Cleanup Course Navigation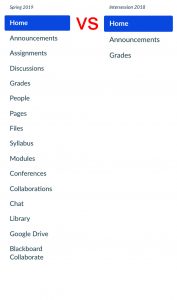 By default Canvas provides a wide array of links within the navigation section to the left of each course. Within most courses the majority of these links will often go unused causing clutter and confusion on behalf of the learner and often instructor. For this reason we highly recommend hiding any unused links.
Your Canvas support team recommends always leaving Announcements and Grades available. Whether you decide to set your Home to a Content Page or Modules will determine whether Modules should also be left available for student access.
As for Assignments, Quizzes, and Pages (some of the most commonly used items within Canvas) we will use Modules to give access to learners them in the order and context we want them to engage these materials.
How do I manage Course Navigation Links?
Use Modules
Modules are used to organize course content by weeks, units, or a different organizational structure. Modules essentially create a uni-directional linear flow of what students should do in a course.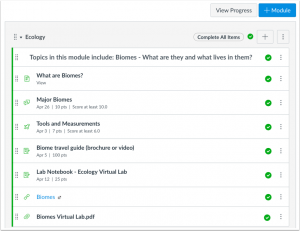 Each module can contain files, discussions, assignments, quizzes, and other learning materials. Module items can be added to the course from existing content or new content shells within the modules. Course content can be added to multiple modules or iterated several times throughout an individual module. Modules can be easily organized using the drag and drop feature. Elements within the modules can also be reorganized by dragging and dropping.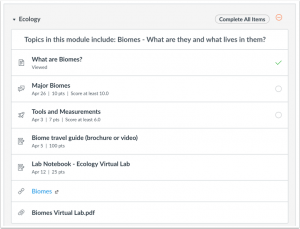 Lock and add Prerequisites to Modules
Modules also allow the instructors to "Lock" them so that they open automatically at a particular date and time. Learners will be able to see the module titles and module item names, but they will not be able to access the module items until after the lock date has passed.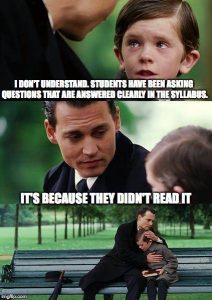 When you set up prerequisite modules, students must complete a module before moving to the next module.
Publish Your Course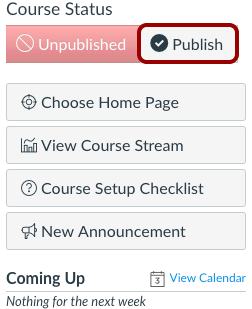 Make sure you publish your course. If you haven't then students won't have access to the material within it. In the crush of responsibilities leading up to the start of the semester little things can be easily forgotten. This isn't a little thing. Our Life Pro Tip to you is to publish your course now. Contents won't be available to the students until the start date of the course.
How do I change the start and end dates for a course?
How do I publish a Course?
Manage Your Dashboard
Often faculty and learners alike are concerned that a course they are in does not show up on their Dashboard. Courses marked as Favorites will appear on your Dashboard. From the left side navigation bar, select Courses and then click on the "All Courses" link. A list of courses will appear, along with a star next to the title. Grey stars indicate courses that have not been "favorited". Just click on a grey star to make it a Favorite. When you return to your Dashboard, courses you've "favorited" should appear.
A much requested new feature was released in Canvas recently, you can now rearrange course tiles on the Canvas dashboard- and it's as simple as drag and drop!
How do I view my favorite courses in the Card View Dashboard as an instructor?
Link/Embed Files From Google Drive
Your Canvas course is limited to 1GB in files space. This isn't a lot. Individually. But, for every course at Geneseo it becomes VERY large. Your Google hosted Geneseo account has MUCH more space and many capabilities. It's for this reason that we recommend you host much of your teaching material on Google Drive and embed it into Canvas Pages.
Using Google in Canvas
Registering the Google LTI
Stay Tuned for an Up-Coming Post on Gradebook Guidance!
Keep an eye open for an up-coming blog on our tips and tricks for managing your Gradebook!