Canvas operates on a three-week release cycle through which features are added or updated; feature releases in the production environment take place on the third Saturday of every month. SUNY Geneseo's EdTech team posts highlights from Canvas's production release notes, a link to these notes, and other relevant content to our blog a few days before the production release, which usually occurs on Saturdays. Please contact the Canvas Support Team if you have any questions about an upcoming production release.
Notifications: Global Announcements
All users now have the ability to decide how regularly they are notified about global, or account-wide, announcements. By default, this alert is set to "immediately" and "by email"; all other notification channels default this alert to off.
Assignments: Sharing (Instructors)
At the course level:
Instructors can now copy and share content directly (i.e., Assignments, Quizzes, Discussions, and Pages) within Canvas. Previously, the use of a secondary repository was a requisite step when sharing content with other Canvas users.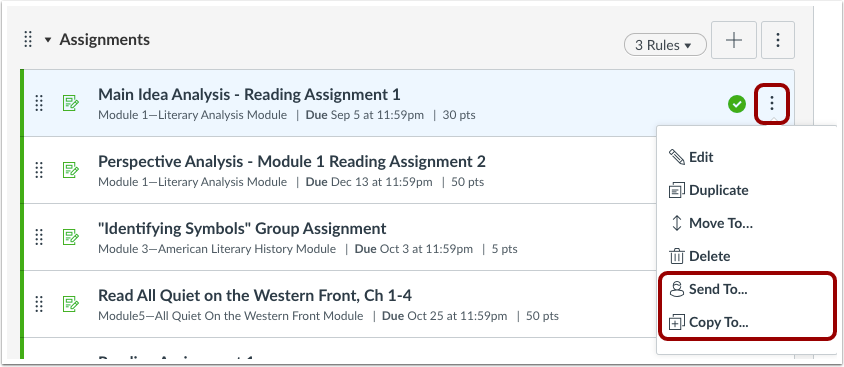 Only the direct content item selected for sharing/copying is included

additional files must be shared/copied individually

"Send To…" sends selected content to another user

search by email address
only users who can manage course content can receive through this feature
the same content can be sent to multiple users simultaneously

Instructors can use "Copy To…" to copy content into another one of their courses

content can be copied directly into a module within the destination course
At the user level: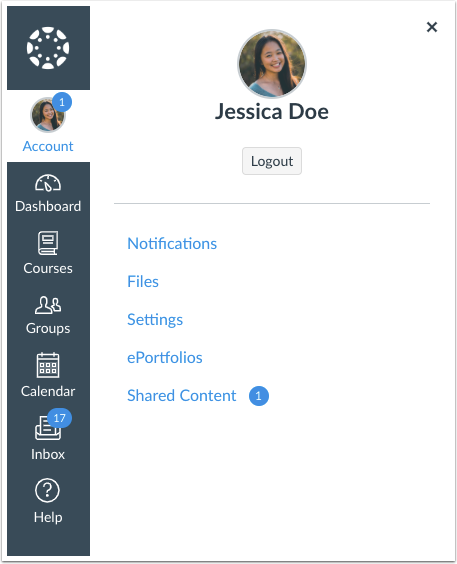 Users who receive content are notified in the User Navigation menu.
Shared content is indicated in the user's Account icon and also in the Shared Content link
Content items are listed on the "Received Content" page in reverse chronological order and will be displayed across multiple pages once a user has received 10 content shares. Users can manage the content item within the page by clicking the three vertical-dot Actions menu,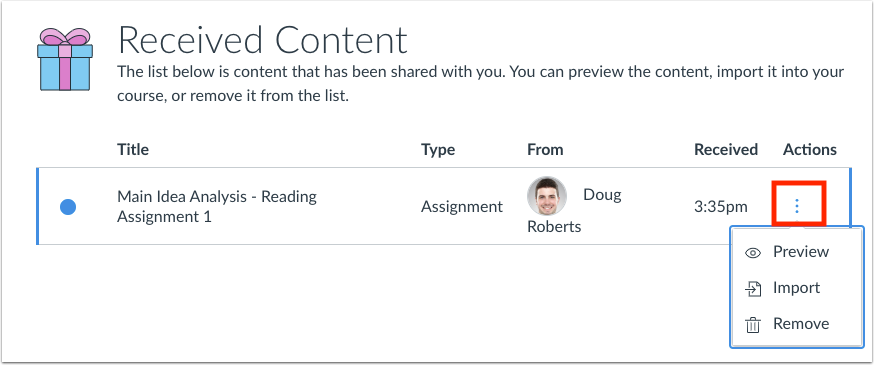 Content items are considered read once the user has selected an action for each content item. However, content items can be manually marked as read/unread by clicking the dot next to the item. Unread content items are displayed in Geneseo-blue.
New Gradebook
Postable Submission Comments
This change focuses on assignments set to manually post grades
Instructors can provide feedback, that's viewable by learners, on assignments without grading submissions
Once a comment is made, in either New Gradebook via grade detail tray or SpeedGrader, an instructor can use the "Post Grades" option to post comments
Note the updated wording in the Post Grades pane:

Comments cannot be posted without grades unless no grade has been entered
Once a comment is posted, the instructor can choose to hide grades while grading the assignment. Doing so will hide the previously posted comments until grades/comments are reposted
Sort Options
The "student name" column now offers additional sorting options: SIS ID, Integration ID, or Login ID.
Users: Personal Pronouns
This feature will be introduced to SUNY Geneseo at a later date. Please check back here for updates.
Users can select a pronoun that represents themselves for a course.
Selected pronouns apply for the user across all enrollments.
Users can edit User Settings to display and select from a list of pronouns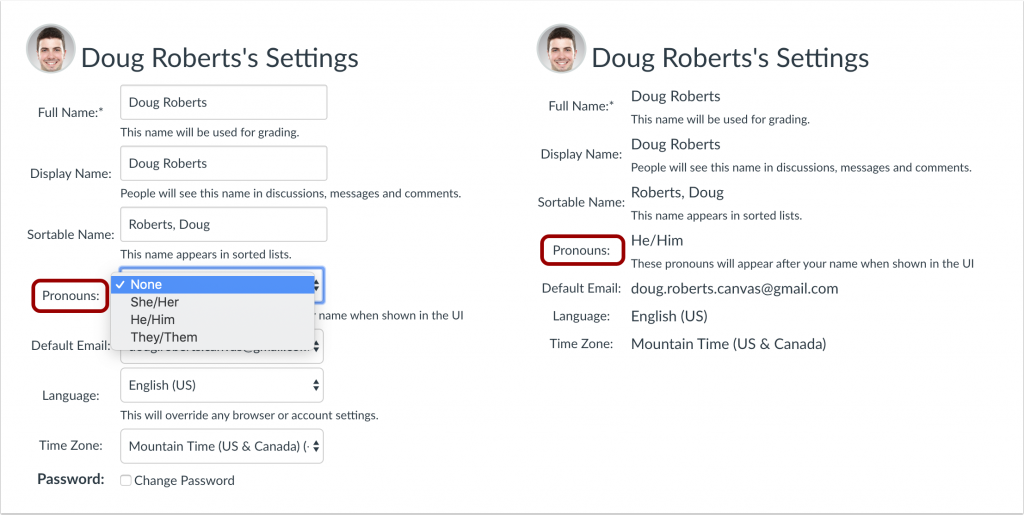 Once a pronoun is selected by a user, the pronoun currently displays in the majority of the Canvas course and user areas

You can find the full 12/21/19 Canvas Release Notes document and the 1/18/2020 Canvas Release Notes document, available from Instructure, within the Canvas Community. You do not need to log in to access this content.
Please contact Geneseo's Canvas Support Team with your questions. Reach us by email (canvas@geneseo.edu) or through the Canvas Hotline at 585.245.6000 (weekdays 8AM – 4PM). Happy learning!