Some governments take the lead on supporting their citizens through this time of negativity and uncertainty.
Countries and societies have responded in different ways to the COVID-19 pandemic. Many citizens were greatly impacted by the restrictions and lockdowns that had to be in place in many countries in order to stop the spread of the virus. This led to many people experiencing economic hardship and lack of stability, resulting in some governments taking the lead on supporting their citizens through this time of negativity and uncertainty. In Europe, political responses to the pandemic have been diverse. For example, governments strengthened their bonds with their citizens by educating the public and providing economic aid and relief programs. Others have chosen to do little or nothing at all. Based on these current responses, citizens of those countries are able to use their ability to politically participate to respond themselves, in conventional and unconventional ways, with the intent to shape the COVID-19 responses of their government in the future.
Austria: Supporting Citizens Through Economic Incentives
How the Political Executives in Austria have Responded to the Pandemic
Around the world, every country has different ways of responding to the pandemic. Citizens of countries have relied on governments more than ever in this desperate time of the loss of jobs, incomes, and effect the pandemic has had on the economy. In the country of Austria, which is a country of 8 million, the government has provided the citizens with economic incentives, and has educated the public about safety measures that will be set in place.
The Chancellors and Presidents Response to the Pandemic
The Chancellor of Austria and President, who hold the most power in the country, have handled the pandemic with strict measures. There has been a second lockdown in place for after December 26th to January 18th which will include a stay at home order, shops forced to close, and schools are being closed. For those who do not comply "For all those who are not willing to be tested, the lockdown rules apply for a week longer," said the Chancellor.
Taking a look back when the outbreak occurred in March, the President made a speech addressing the nation at that time, and discussed the seriousness of the virus, and urging everyone to take safety measures. In his speech he has said " And there is something we can all do. Specifically, by taking seriously what the Federal Government and the experts recommend. By taking care of ourselves, and of others. Right now, we need to slow down the spread of the virus so that our health system can continue to function. " He addresses the nation with confidence, urgency to stop the spread, and thanked the population for their cooperation. Besides the President's role in the constitution, it is the Federal President's responsibility to offer moral support to his country.
When Chancellor Kurz gave a speech in August, he focused on concerning the current situation in Austria and the planned political content of the following months. The three major topics were economy and labour, digitization and education as well as social cohesion and civil society involvement. The Chancellor is the head of government, and holds the most power in Austria, therefore his speech unlike the Presidents focused on all elements of the effects of the virus. The Chancellor is responsible for not only educating the public, but imposing lockdowns, and making sure everything is in place.
These speeches are significant because citizens have turned to the government and its leaders for support in this trying time, and it demonstrates the strength the people have in the government.
Economic Incentives for Citizens
The government of Austria has focused on providing small business owners who have been struggling the most with economic incentives. The government has created a WKO hardship fund which applies to "One-person entrepreneurs and micro-entrepreneurs as natural persons, who employ fewer than 10 full-time equivalents."The breakdown of the being eligible for the grant is With a net income of less than EUR 6,000 Grant of EUR 500, With a net income of EUR 6,000 p.a. or more: Subsidy of EUR 1,000.Applicants who do not have a tax certificate will receive a grant of EUR 500. Besides the economic incentives for small businesses, there is short time work set in place where the employer pays a part-time salary and in addition the short-time work benefit which the Austrian Public Employment Service ("AMS") funds. These not only help the employer lower their spending by shorter hours but also help the employees still have an income.
Both the economic incentives, and the different roles the Chancellor/President play illustrate how Austria is handling the pandemic. With speeches made by leaders, lockdowns in place and the economic support the government has given to small business owners, it is a strict approach and ensures the safety of the country.
Croatians' COVID-19 Response as Conventional Political Participants
Like Austria, the Croatian government responded to the pandemic with strict measures in order to promote public safety while providing economic support in order to accommodate for the losses caused by lockdowns and restrictions. In order to show their satisfaction with these measures, Croatians used their right to vote, in which they voted in favor of consistency in government, a choice they made in the hopes of stability.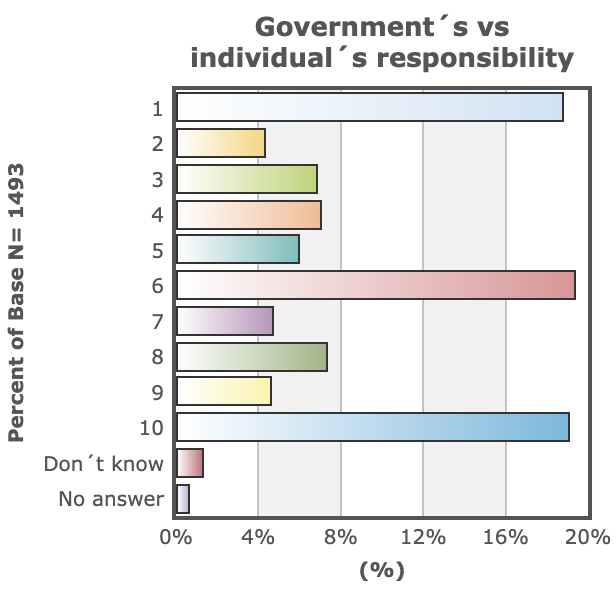 Due to the vast impacts that the pandemic has had on citizens, the responsibility of the government to support their citizens has been questioned. As seen in the graph shown, in Croatia, the World Values Survey has found that similar percentages of people in Croatia that believe the government should take more responsibility to ensure that citizens are taken care of (18%) and those that believe that people should take more responsibility for themselves (19%). 19% of respondents believe that there should be more of a balance between government and individual responsibility. This shows that Croatians see that the government should have some level of responsibility. This makes elections important, especially during the pandemic, because citizens are able to choose which party will take the lead on the COVID-19 response, which impacts the level of responsibility that the government will have in taking care of its citizens.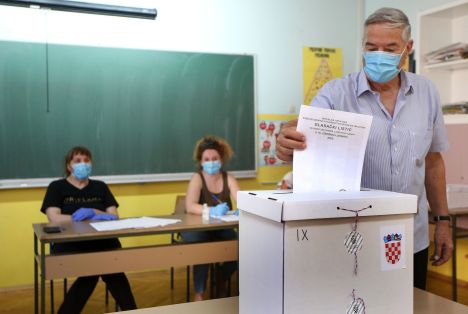 The people of Croatia voiced their desire for consistency and stability in their most recent general election for Parliament in July of 2020. Croatia's ruling party, the Croatian Democratic Union, finished on top with around 37% of the vote, despite the criticisms it has received over its response to the COVID-19 pandemic (Election Guide 2020). The party's leader, Prime Minister Andrej Plenkovic, called for early elections back in May despite the pandemic (Orovic 2020). At first, this seemed to be a smart, strategic decision since Plenkovic's government was praised for its management of the pandemic in its initial stages and was ahead in opinion polls. However, In the days before the election, the decision continued to seem risky as coronavirus cases spiked and the Social Democratic Party was starting to close in on the Croatian Democratic Union's lead. In the end, Plenkovic's party had "one of its best showings" in more than a decade with political analysts saying, "the gamble paid off" (Orovic 2020).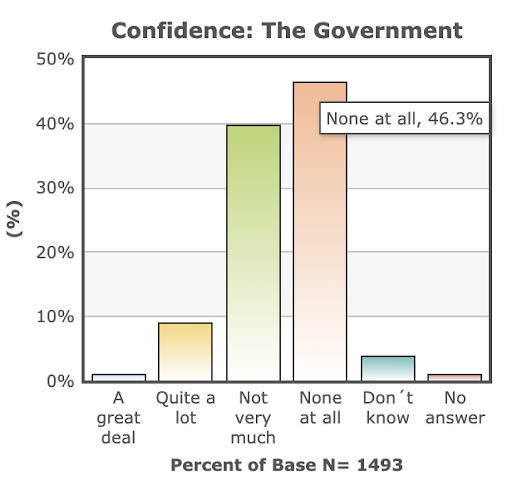 The July 2020 election shows how the people of Croatia were in favor of "stability amid profound health and economic crisis" (Orovic 2020). In times of hardship, like that of the COVID-19 pandemic, people generally do not want huge changes as the pandemic has already changed enough people's lives. This belief allowed for the ruling party to stay in power and this could be the start of a pattern where when in crisis, Croatian will stand by their ruling government to maintain stability. This conflicts with previous data that gauges the level of confidence that Croatian's have in their government. As seen in the data here, about 46% of Croatians asked in a World Values Survey said that they had no confidence at all in their government, the next highest percentage being 39% who said they have very little confidence (World Values Survey 2020). Despite the fact that Croatians in the recent past have shown little confidence in their government, they still choose to keep the ruling party in power.
The results of the most recent election show that citizens during the pandemic do want to rely on the government for support. Knowing this desire from voters, Prime Minister Plenkovic stated "Our key task is to secure welfare for our citizens … to preserve their health and the jobs at these times of the [COVID-19] pandemic" upon the Croatian Democratic Union winning the election (Country Watch 2020). In Croatia, citizens were participants in their government and used their ability to vote in order to inform their government's response to the pandemic. As the pandemic continues, by re-electing the ruling party as the majority in Parliament, Croatian will hopefully see the government make measures towards consistency and stability, giving voters what they voted for.
The Belarusian President's COVID Response and Citizens' Dissatisfaction
The Belarusian government is taking COVID-19 very lightly. They have not implemented lockdowns, closed schools, or canceled mass events, as they are still continuing the Belarusian Football League and will still hold their Victory Parade in May (Karath, 2020).
President Aleksander Lukashenko, who has been in power since 1994 has been denying the seriousness of the virus. Although the country of Belarus has some of the lowest numbers of cases across Europe, Lukashenko does not feel the need to take serious precautions in regards to COVID-19. Everything was up to the citizens including if they wanted to wear a mask or not when they go out. They had very little expectations from the government and were nervous about what was to come. The citizens of Belarus were not very happy with their president not taking this seriously and seeing how neighboring countries were on complete lockdown and now able to function (U.S Embassy In Belarus, 2020).
The COVID-19 situation and how it is being handled by the Belarusian government is not much different from how most other situations are handled within the country. For example, President Lukashenko has been in power since 1994 and has had no competition during any elections. In the most recent election, citizens decided enough was enough and started rioting. Although Belarus did have in their Constitution that presidents could only rule for two terms, Lukashenko took it upon himself to change this rule so he could stay in power. The citizens of Belarus know the complexity of President Lukashenko and how he handles things, which is why they are showing that they've had enough.
The citizens wish they could rely on a strong government but instead, they are having to come up with ideas to keep themselves safe during this pandemic. With little to no instructions on how to stop the spread and a declining economy, Belarusians are looking for a major change within their government system. Unlike countries in Croatia who are using conventional forms of political participation in order to voice their satisfaction or dissatisfaction with their country's management of the pandemic, Belarusians are appealing to other countries for support. The U.S has given 1.2 million dollars worth of aid to Belarus in regards to helping them with medical supplies and other necessities to lower their COVID-19 rate (Karath, 2020). These appeals to other countries have brought Belarusians together, almost like a social movement. The pandemic has caused Belarus to maintain high connections with countries around the world but also has shown their citizens the change needed within their government.
Conclusion
Government responses to the COVID-19 pandemic have varied from country to country, leading to varying reactions from those countries' citizens, particularly the political participants. Due to the strong responses of governments and their executives like Austria, citizens are educated on the developments of pandemic responses and are provided adequate economic aid. As a result to this kind of government involvement, citizens can show their satisfaction with the responses through conventional political participation, or voting, as they did in Croatia. Even in countries where the response to the pandemic has been considered problematic, like that in Belarus, citizens use their role as political participants to communicate their dissatisfaction with the responses, which may be through unconventional methods. Europe's political executives have shown that they can be a resource and supportive during this time of uncertainty but some have also shown that they can respond in a much different, more negative way. Under either set of circumstances, citizens can still voice their political opinions in order to foster consistency or create change.
Contributors:
Megan Willison is an Adolescent Education: History major, with an expected graduation date in the spring of 2022.
Ashlyn Guarasci is an Undeclared major, with an expected graduation date in the spring of 2023
Samantha Chassin is an International Relations major, with an expected graduation date in the spring of 2024.
Sources:
"COVID-19 Information." 2020. U.S. Embassy in Belarus. August 20, 2020. https://by.usembassy.gov/u-s-citizen-services/covid-19-information/.
Election Guide. 2020. "Republic of Croatia." https://www.electionguide.org/countries/id/55/
"Government formed in Croatia after elections." 2020. Country Watch Political Intelligence Wire. July 26, 2020. https://advance-lexis-com.proxy.geneseo.edu/api/document?collection=news&id=urn:contentItem:60FW-YD91-JCC3-9000-00000-00&context=1516831.
Karáth, Kata. 2020. "Covid-19: How Does Belarus Have One of the Lowest Death Rates in Europe?" British Medical Journal Publishing Group. September 15, 2020. https://www.bmj.com/content/370/bmj.m3543.
Orovic, Joe, and Kingsley, Patrick. 2020. "Croatian Prime Minister's Gamble on Early Elections Pays Off." New York Times, July 5, 2020. https://www.nytimes.com/2020/07/05/world/europe/croatia-election-plenkovic-coronavirus.html.
thelocal.at. Accessed December 22, 2020. https://www.thelocal.at/20201221/explained-what-are-the-rules-of-austrias-upcoming-coronavirus-lockdown.
Vindobona. "Chancellor Kurz Is Giving a Speech with 3 Major Topics." Vindobona.org | Vienna International News. Vindobona, August 26, 2020. https://www.vindobona.org/article/chancellor-kurz-is-giving-a-speech-with-3-major-topics.
World Values Survey. 2017-2020. "Wave 7- 2017-2020: Croatia." http://www.worldvaluessurvey.org/WVSOnline.jsp.
Yasmin WagnerTax Advisor | Partner Head of the Competence Center "International Tax Law" & Tutor for international Taxation on the FH Vienna , and +43 1 588 35-562 Write Email. "Austria: Covid-19-Virus Relief Measures." TPA Group, June 4, 2020. https://www.tpa-group.com/en/cee-news-en/austria-covid-19-virus-relief-measures/.