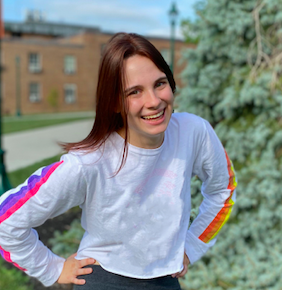 This project was founded by Lara Mangino, a spring 2021 graduate of Geneseo. As Editor-in-Chief of MiNT Magazine and Creative Nonfiction Reader for Gandy Dancer, Lara was incredibly involved in literary magazines at Geneseo. However, she found that despite her high level of engagement, she knew very little about the history of magazines at Geneseo. Upon more exploration, she found that there were a number of old publications that very few people–faculty, students, or staff–knew anything about or had ever seen. This inspired the Geneseo Literary Magazine Project, a year-long Capstone sponsored by the Edgar Fellows Program. From September 2020 to May 2021, Lara scanned and uploaded old literary journals so they can be viewed by a wider audience. She worked in conjunction with Professor Rachel Hall of the English Department; Liz Argentieri, the Manager of the Special Collections in Milne Library; as well as a number of other faculty, staff, and students. Starting in the fall of 2021, Jessica Vance will be taking over the project to pick up where Lara left off.
What is a Literary Magazine?
A literary magazine or literary journal is a publication dedicated to the proliferation of literature that is driven by a mission, not the market, and it often publishes fiction, essays, poetry, art, and photography alongside many other genres of work. Student literary journals are journals edited and produced largely by students
The Importance
Literary magazines are incredibly important to society in general as they often provide a voice for writers who go on to be major figures in the literary canon. They also have much more freedom than profit-driven publications to deviate from the mainstream and publish underrepresented voices or politically inflammatory content. On college campuses, they serve a similar purpose. Magazines can act as a time capsule, reflecting the particular moment that they are derived from. Just as contemporary issues discuss Donald Trump, Black Lives Matter, and the COVID-19 pandemic because they inform the creation of each magazine in some way, old issues discussed the 2003 invasion of Iraq (MiNT Magazine, Spring 2003), the Iran-Contra Affair (Our Time, Fall 1986), and the Vietnam War (The Experimentalist, 1966). Additionally, they give a voice to students as they hone their craft, allowing them an outlet for expression and a community for creative connections. These publications provide a backdrop to the contemporary love for literature at Geneseo, showing that students have always cared to put their pens to paper and produce something beautiful. These documents are important because students loved making them; thus, they deserve to be remembered.
The Process
Digitizing and Uploading the Magazines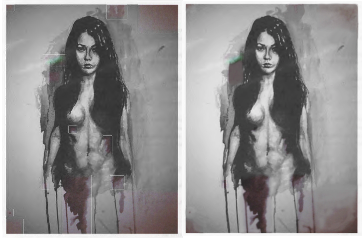 Using a flatbed scanner accessible through Milne Library, Lara scanned each page of each issue into Adobe Acrobat. Scanning a single issue could take anywhere from thirty minutes to well over an hour. Then, using Acrobat, Lara cropped each page and added links so the Table of Contents was clickable; this serves to assist future readers in perusing these issues. In addition, often pages had to be edited using Adobe Photoshop. Certain images, when scanned, featured boxes and discoloration on the page; therefore, they were edited to appear more like the original image. Once each issue was fully digitized, they were uploaded to Google Drive and then to KnightScholar, the digital repository for Geneseo publications.
Major Setbacks
In January of 2020, Milne Library was closed due to asbestos, preventing anyone from accessing the Special Collections. The COVID-19 pandemic subsequently interrupted efforts to retrieve and clean the Collections, so Lara was unable to work with them until March of 2021. Once she finally did gain access to the Special Collections, she had to spend the majority of spring 2021 scanning and uploading, preventing her from doing much research or alumni outreach. Nonetheless, Jessica Vance, will be taking over in the fall of 2021, hopefully being able to carry out the remaining portions of this project.