The Experimentalist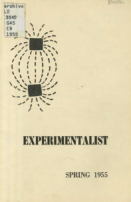 Founded in 1955 by members of the Geneseo English Club, The Experimentalist is the first known literary magazine on Geneseo's campus. As the editors wrote in "Fatihah," the editorial that began the first issue,
The purpose of The Experimentalist is to provide a medium of expression for the students of the College. We hope it will encourage people to write, to aspire to more articulate written expression, and to gain satisfaction from sharing thoughts and ideas with others.

The Editors, Spring 1955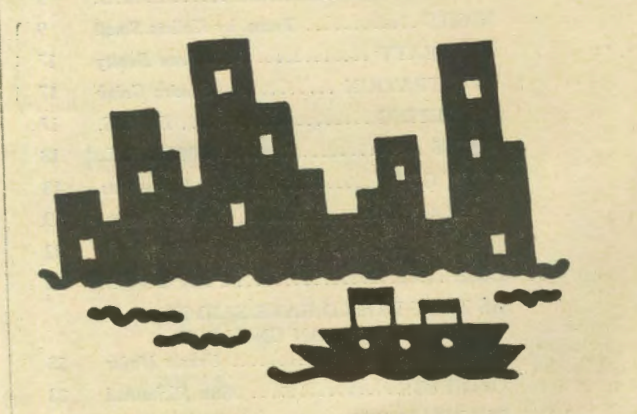 The early issues published poetry, essays, and fiction and were often interspersed with little doodles and drawings. However, beginning around the 1960s, art became more frequent and covers more vibrant, replacing the simple doodles of the past. Meanwhile, the club published writing contest winners from 1957-1966, which were typically judged by faculty from other New York colleges. Categories included the Mary A. Thomas Poetry Award, the Lucy Harmon Fiction Award, the William T. Beauchamp Literary Award (for general contributions to English and the literary culture at Geneseo), as well as awards for playwriting and essays.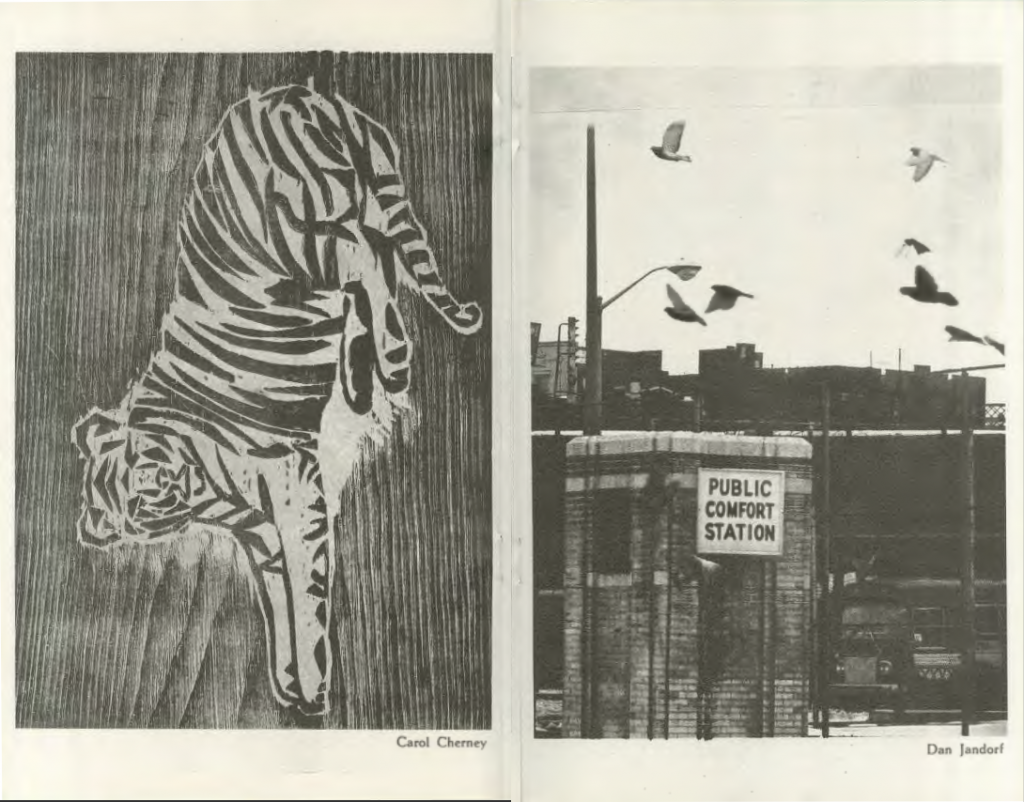 The 1967 issue of The Experimentalist is the first instance of photography published in a Geneseo literary magazine. In the center pages of the little blue-green booklet, five black-and-white photographs and three drawings are featured amidst the typical poetry and prose.
The last known issue of The Experimentalist was published in the fall of 1990. As both the earliest and longest-running literary magazine at Geneseo, it was the model upon which each future Geneseo journal would be based. One can see its influence on all the journals that came after it.   
---
Our Time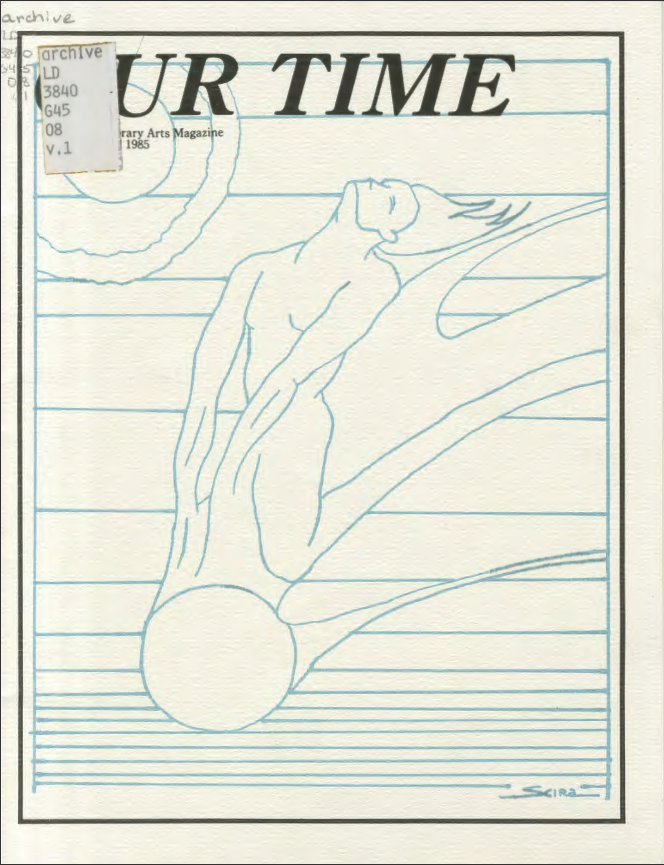 Our Time was founded in 1985 by Kwadjo Boaitey as a "contemporary arts magazine where the student body may release their artistic talents." Though they coexisted, Our Time and The Experimentalist clearly filled different niches. Our Time appeared like a commercial magazine, featuring editorials, reviews, and records of student quotations and upcoming concerts and other events alongside poetry and prose. Though color still only appeared on the cover, the issues still managed to pop, filling up its larger pages with more artwork and photography. It also generated revenue through advertisements and sales.
This model continued for a few years; however, as The Experimentalist shuttered, Our Time moved in to fill its niche, publishing issues filled with more and more creative work and less editorials or advertisements. The last known issue, published in 1997, is a half-sized booklet and features only poetry and prose.
Our Time is another publication whose impact can be felt even beyond its lifetime. Its unique characteristics—its contemporary style, its engagement with pop culture, and its sense of humor—would carry on into later publications such as MiNT Magazine among others. In the words of Shelli L. Stiverson, Editor-in-Chief of the fall 1987 issue,
When a group of intelligent, creative and determined students put their minds and efforts together, something special is bound to occur. That special something is Our Time Magazine.

Shelli L. Stiverson, Fall 1987
---
Ruby Bayou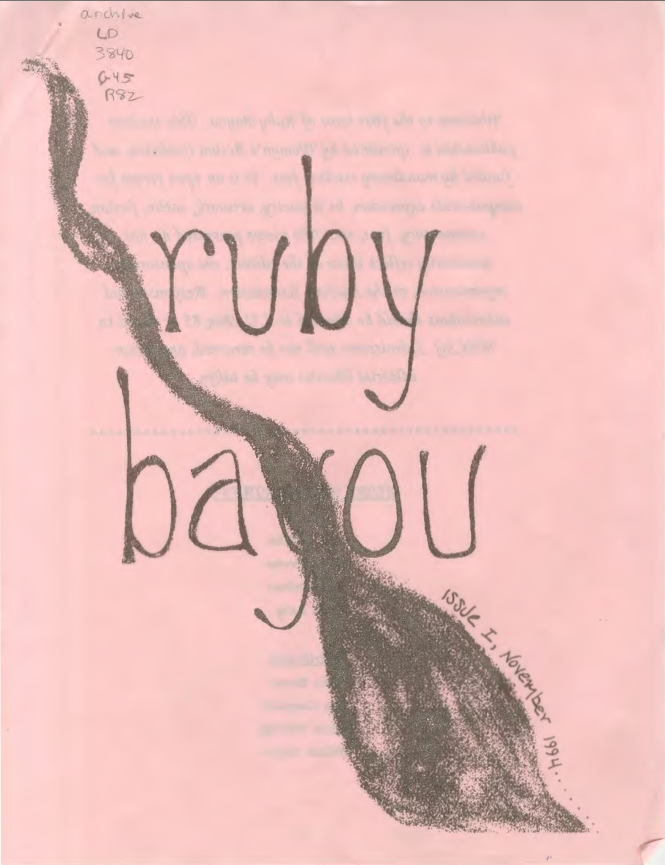 Ruby Bayou was a short-lived magazine of the mid-1990s founded by the Womyn's Action Coalition. It was first published in November of 1994 and ran until the fall of 1996, and though it focused primarily on writing about race, gender, sexuality, and women's issues, it also covered a variety of subjects within their poetry, fiction, and essays. As its mission statement, printed in two different issues, reads,
What is this publication about? This is for our readers to determine….

We solicit provocative and intelligent thinking, whether the medium be articles, poetry, essays, or black and white artwork, including photography.

This is a forum in which students and faculty can express their concerns and creativity. Like so many other things, Ruby Bayou is going to be what we make of it

Ruby Bayou Staff, 1995-96
After five issues, Ruby Bayou ceased to publish. The last issue alludes to successive ones, inviting contributors to submit and expressing excitement to see what the magazine would become. Although not many issues were published, this is the first Geneseo magazine with an obvious focus towards the political and towards social justice.
---
Equinox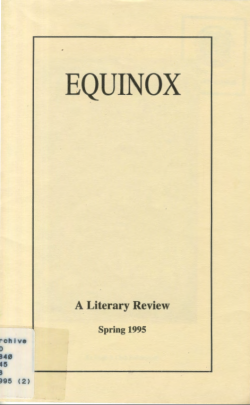 Only one issue of Equinox is known to exist, a spring 1995 issue published by the English Club. Given its foundation shortly after the shuttering of The Experimentalist, it was likely founded to fill that void. It is small, crisp, and professional-looking and features only fiction and poetry. Not much else is known about this short-lived publication, but it is the second magazine run out of the English Club, being succeeded by Opus just a few years later.
---
Subterranea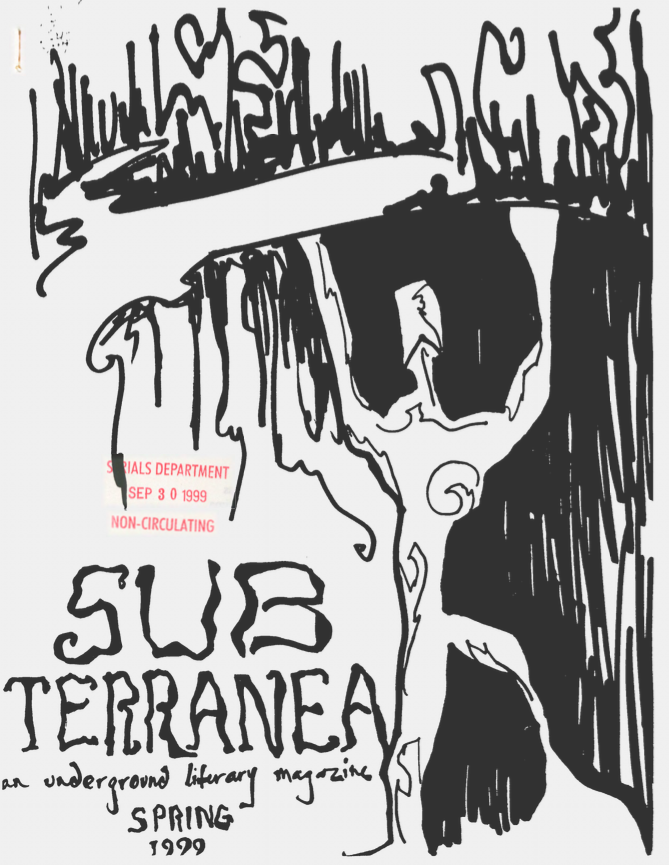 Subterranea is another short-lived publication about which little is known. Its only known issue was published in spring of 1999, though it claims to be "Subterranea's fourth emergence," implying that there are at least three missing issues of this magazine.
Subterranea billed itself as "an underground literary magazine." It published poetry and prose, some which was experimental in its structure, such as "(nonsent x message)s & time" by Edric Mesmer, which depicted four photo-copied poems with different orientations on the page.
---
Speak
Speak Magazine is another publication of which there is only one known issue that alludes to others. Issue no. 2 from spring 2000 contains poetry, political essays, and stories of studying abroad. 
This issue is in many ways reminiscent of Our Time before it; it contains fun little cartoons and editorials and, on the very last page, a list of facts about Geneseo's history. It is unknown what became of Speak after 2000, but it does stand out for both its unique style as well as the fact that it was the first known magazine with an online component.
---
Opus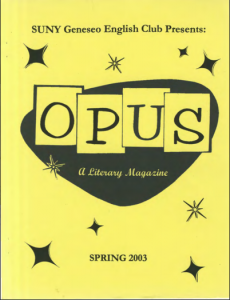 Opus is the latter of the three publications produced by the Geneseo English Club. Its first issue came out in spring 2003, and it published annually until 2017. Unlike many of the other journals catalogued in this project, Opus maintained a singular design and structure throughout its time as a publication; it is known for its full-size pages and covers eagerly bearing its name. Often, the title of the journal was incorporated into the cover image in some way, and the artwork or photography was attributed to the Opus Staff or to a collection of students.
Opus published poetry, fiction, essays, plays, artwork, and photography. It tends to adhere to the same literary tradition as The Experimentalist; however, it displays notable senses of informality and humor that earlier English Club publications lacked. Letters to the readers in the opening pages often referenced Opus's age by saying that it was entering its teenage years or that it was in high school, and one acknowledgement section memorably thanked one of the editors for "putting up with and not killing" her co-editor.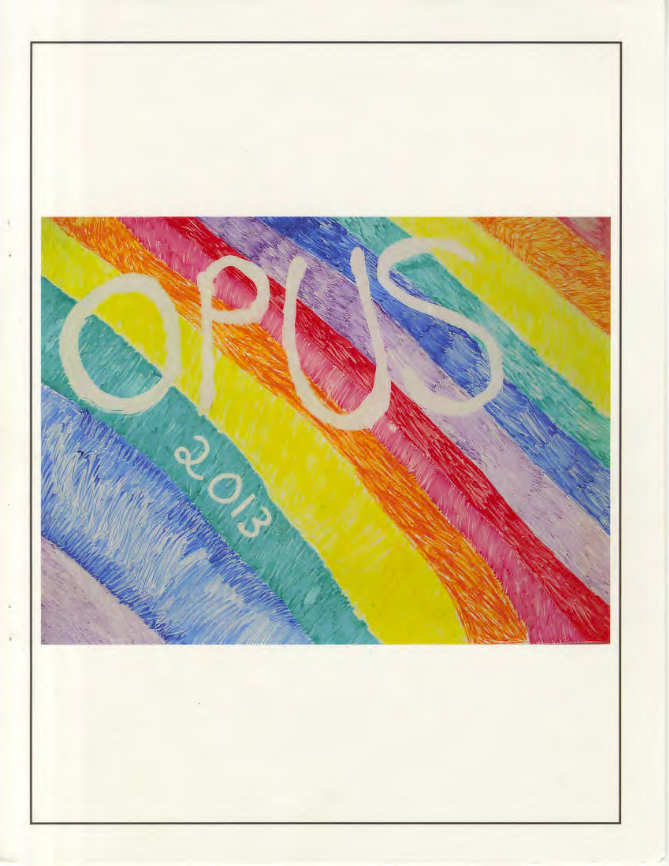 Although at one point, Opus was the primary literary magazine for Geneseo, it began to decline as its contemporaries MiNT Magazine and Gandy Dancer became more of a priority for students. In addition, the retirement of its advisor Dr. Greenfield meant the end of the English Club, and Opus published its brief final issue in Spring of 2017. Nonetheless, it is still remembered by students on campus as a beacon of literary talent, and alumni describe it as a lot of fun and an incredibly rewarding process.
---
MiNT Magazine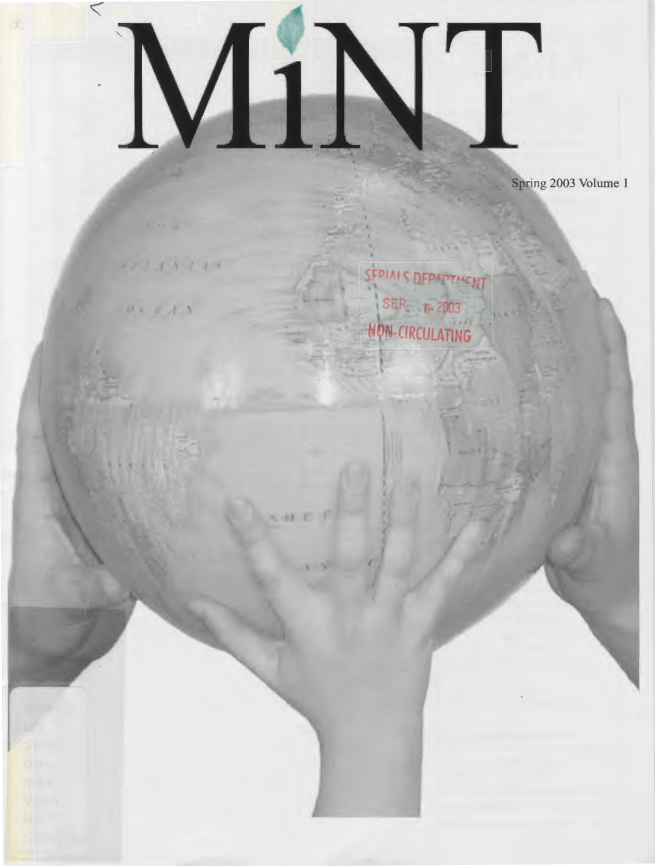 MiNT Magazine is one of two ongoing publications at Geneseo. MiNT, like Opus, was founded in 2003; however, unlike Opus, MiNT did not initially appear to be a traditional literary magazine. In its early years, MiNT was funded by the Vice-President's Grant for Creating Community Through Diversity and thus was published with the intent of being a multicultural magazine. It was titled MiNT because
A mint is something refreshing, something you always want, something you usually need. It is that extra something you need after a meal. A mint leaf has healing properties. Something that's in mint condition means fresh and new. A mint is also a place or source of invention.

Fiona Lee and Bryan Pederson, Spring 2003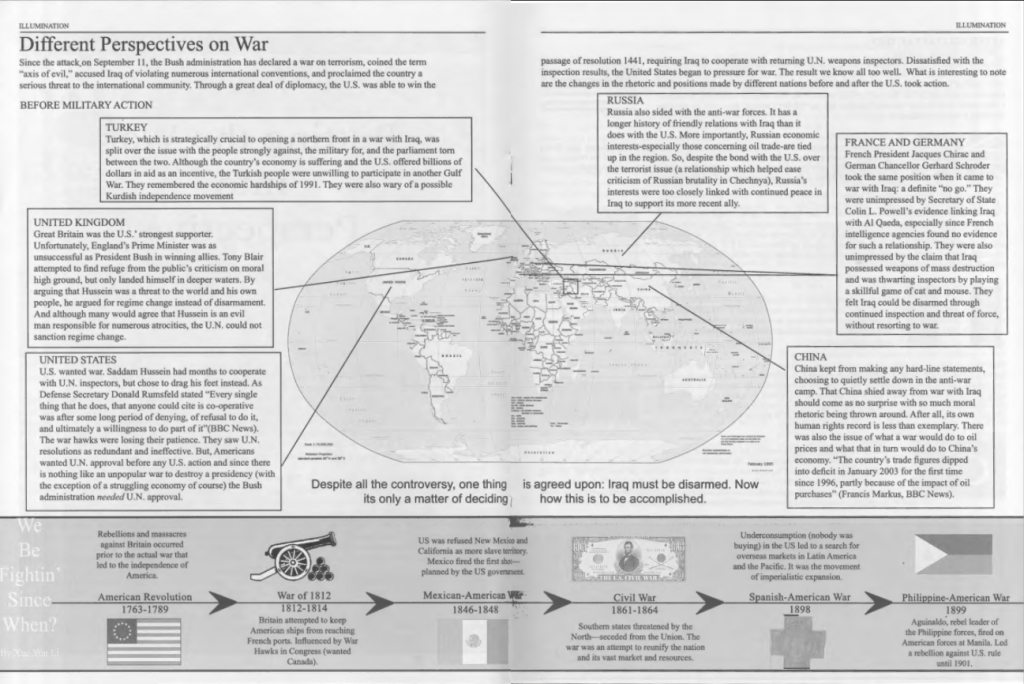 Although it published some poetry and creative prose, in its early days it functioned as much more of an editorial publication, showcasing educational and opinion pieces about politics and current events. For example, the first issue was published in 2003, so much of it focused on the Iraq War and George W. Bush. It drew a lot of inspiration from Our Time, sharing similar formats and a common advisor. MiNT is also notable for being the first—and only—Geneseo publication to feature themed issues .
Over the years, however, MiNT shifted away from editorials into traditional poetry, prose, and artwork, its 2012 issue "FulfillMiNT" being among the first known issues to feature this new style. MiNT still exists today as the oldest continuous student-run literary magazine, and you can find more information as well as contemporary issues on its website .
---
Gandy Dancer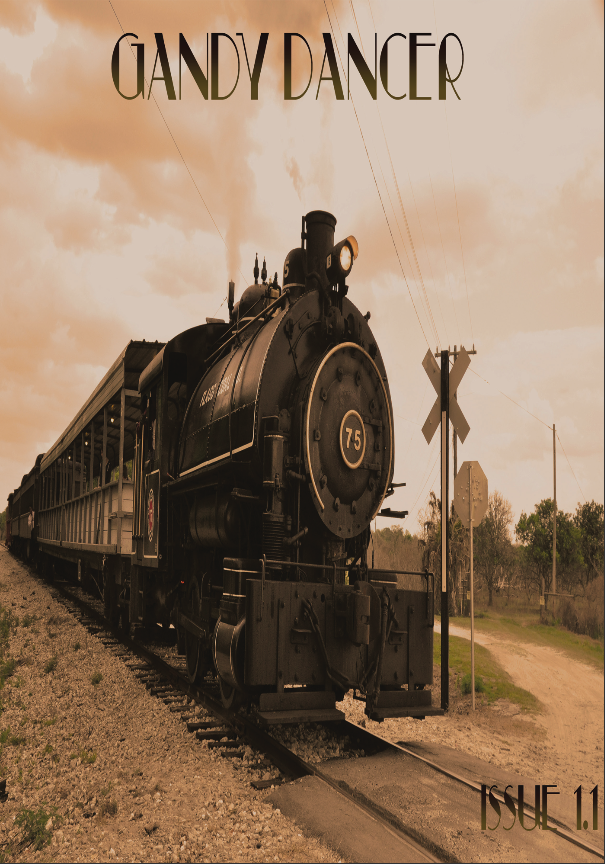 Finally, we come to Geneseo's newest magazine. Gandy Dancer was founded in 2012 by Professor Rachel Hall and Suraj Uttamchandani. It began as an online-only publication but transitioned to printing copies shortly after. It was named in honor of the gandy dancers, a slang term for railroad workers who laid down the tracks.
Gandy Dancer, unlike the Geneseo publications that came before it, has a great deal of faculty oversight, being managed by Professor Rachel Hall through the Editing and Production class. The rotating students in the class make up the Masthead, and they are divided into genre groups which read poetry, fiction, and creative nonfiction, respectively. Also unlike the Geneseo publications that preceded it, Gandy is the only publication to welcome submissions from other schools. All SUNY students are invited to submit, and as a result, Gandy has created a literary community that has expanded even beyond Geneseo.
To learn more information and to view contemporary issues, you can visit Gandy Dancer's website.