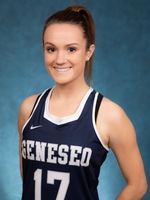 Maddie was born and raised on Long Island in Massapequa, New York. She attended and played lacrosse for Massapequa High School. Maddie is a senior on the SUNY Geneseo varsity women's lacrosse team and is currently double majoring in math and adolescence education with minors in communication and psychology. Maddie plans to graduate in fall 2019.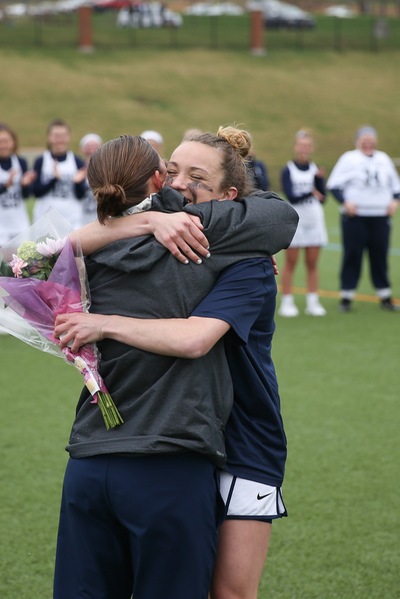 Maddie and her father went through the recruiting process together when she was in high school. They emailed coaches and visited schools together during her summer lacrosse tournaments. Maddie had originally wanted to go D1 because she thought it would legitimize her skills and abilities, as well as provide the satisfaction of playing at the highest level possible. She concentrated on schools with recognizable names. As she visited schools like James Madison, Brown, and Villanova, she began to realize that they failed to mention the importance of personal growth — it was all about lacrosse and finding time for school in between lifts and practices. Maddie saw this as a red flag. At the same time, her father wanted her to explore SUNY schools. Her best friend committed to SUNY Binghamton, but Maddie's family wanted her to visit SUNY Geneseo, and she fell in love with the campus. When as a tenth-grader she walked into the coach's office unannounced, the coach made time for her, no questions asked. From then on, she was sold on Geneseo and its lacrosse program. Maddie always compared other school visits against Geneseo, and she knew it was the place for her. Coach and Maddie talked from tenth grade on, and by the time she had her overnight visit during her senior year of high school, she was already committed. She knew she had made the right decision when she watched a practice and saw girls laughing, wearing funny shirts, and having fun together. Lacrosse was something Maddie enjoyed doing, but she knew that it wasn't a job and didn't have to be her whole life. Coach also promised that she could study abroad and would become a better student-athlete, not just a lacrosse player. The school made sense financially for her, and she knew a few people from high school who played sports at Geneseo and loved it. It was no longer about the big name of a school but about where Maddie felt most at home and most welcomed.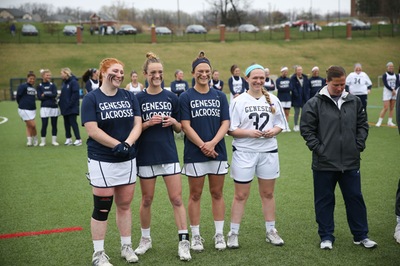 Maddie's typical day as a student-athlete is composed of classes and studying in the morning. She prefers morning study because that's when she believes her "head is the clearest, and it's the best way to start a productive day." On Tuesdays and Thursdays, her team lifts at 7 a.m., so those days she goes right from lift to class. They have practice in the afternoon, but she arrives about an hour early to get physical treatment. Practices typically last two hours, but they get shorter once the team moves into the season. After practice, Maddie has some personal time for things like showering, eating, and finishing up her work for the night. She finds that the combination of academics and athletics gives her a routine, and she typically does well in school when she has a set schedule, compared to when she is out of season. Maddie sometimes wishes she had more time to do her work, but she always manages to get it done.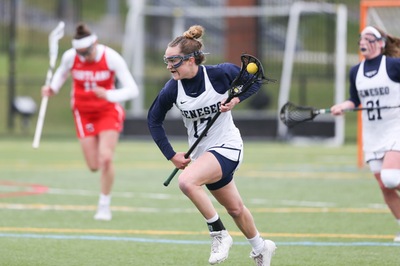 Maddie loves the small-school feel of SUNY Geneseo. She said, "Everyone knows each other, so you don't feel like just another name. This allows you to get to know your professors and fellow classmates as well as faculty in the athletic department and other teams. Geneseo feels like a family."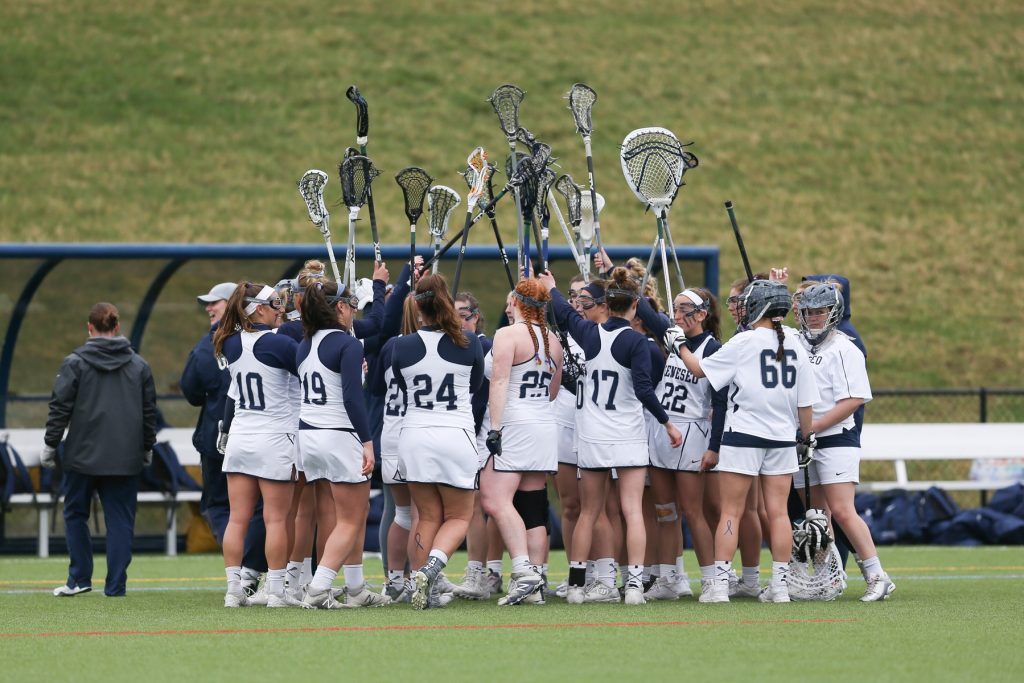 Maddie believes her team culture is very accepting. They have girls from different backgrounds with different personality types and different interests; however, when they are together (which is all the time) that all seems to go away. Their culture allows them to feel comfortable with each other and be themselves without judgment. While they may act silly and are extremely close socially, they are also very competitive. Their team takes "friendly" competition to another level. They get the most out of each other by challenging each other to competitions in practice. Maddie believes that they have a good balance between being a social group and being intense competitors. Maddie loves her coach. She can go to her for anything and knows she will always be there for her. She is like a "mom away from home." Their practices typically start with a dynamic warm-up and some sort of stick work. Then they will conduct a few skill-based drills and conclude with some sort of competitive scrimmage. The coach typically likes to stop and explain concepts and talk things out so the team understands her expectations. They listen to music during warm-ups to get in a good mental state, leave other stressors off the field, and focus on lacrosse. Sometimes their coach mixes up their practice plans and has them do a lifting circuit or spin.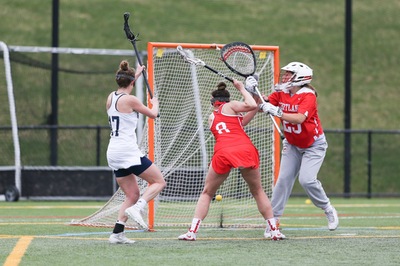 Maddie could not be happier that she chose Geneseo. Balancing lacrosse and her rigorous academics has made her into a more mature and well-balanced person. While school and lacrosse are extremely challenging, she enjoys the rewarding feeling after getting a good grade or playing well. Maddie has learned to ask her professors or coach for help when it is needed. She has developed a strong work ethic she will carry with her for the rest of her life. Her favorite part about being on a team at Geneseo is the feeling that she has a second family. There are always 26 girls she can count on to have her back no matter what.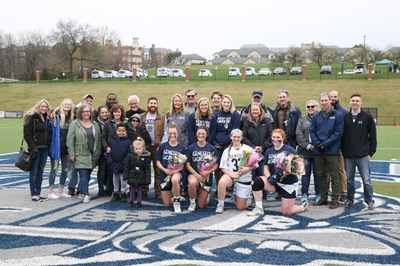 Maddie's recommendations to future student-athletes: "Don't take your resources for granted. There are so many people who are there to help you, whether in academics, athletics, or your own personal health. Being a student-athlete means you are never alone, so never take that for granted."
Written by Anthony Marra '19 (communication) and Andrew Romano '20 (communication; geography minor)
BY STUDENT-ATHLETES, FOR STUDENT-ATHLETES, ABOUT STUDENT-ATHLETES