SUNY Geneseo is partnering with the University of Rochester to sponsor a week's worth of events celebrating Henry David Thoreau and creativity, April 3-5.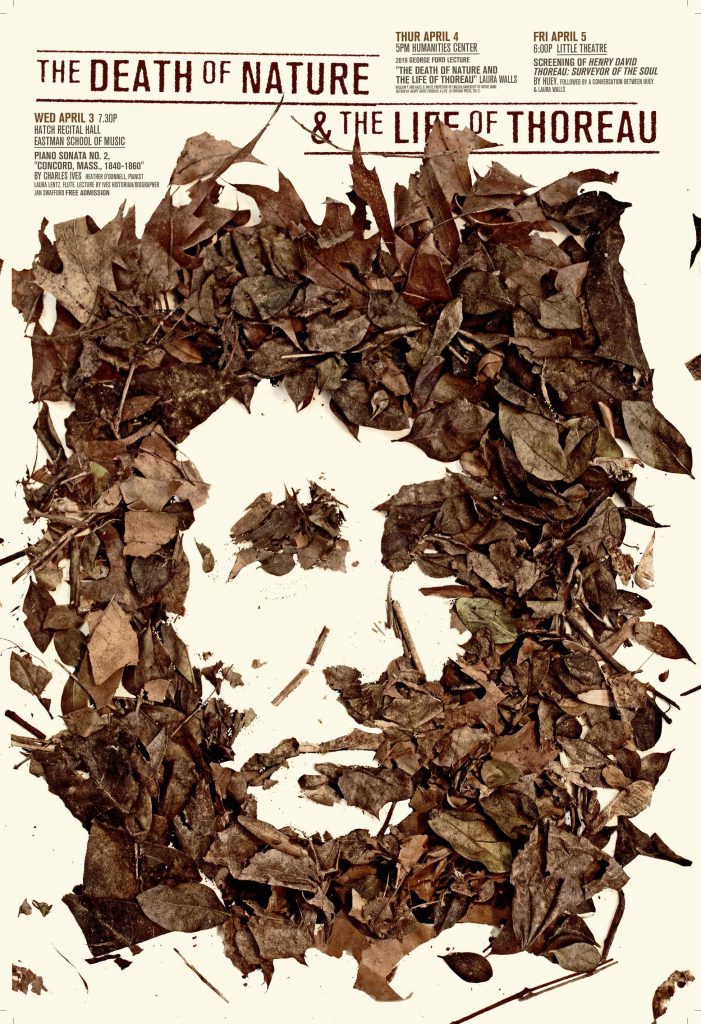 Wednesday, April 3: Concert and Lecture
Time: 7:30 p.m.
Place: Hatch Recital Hall, Eastman School of Music
Admission: Free
Sponsor: University of Rochester
Heather O'Donnell (piano) and Laura Lentz (flute) will perform Charles Ives's Piano Sonata No. 2, "Concord, Mass., 1840-1860." Ives biographer Jan Swafford will deliver a lecture contextualizing Ives' sonata.
Swafford writes regular columns on music and other subjects in Slate, and is heard as a commentator on NPR and the BBC. His writing honors include a 2012 Deems Taylor Award for internet writing and a Mellon Fellowship at Harvard. His Brahms and Ives biographies were end-of-year Critics' Choices in The New York Times. The Ives biography was nominated for a National Book Critics Circle award in biography and won the Pen-Winship prize for a book on a New England subject. His biography Beethoven: Anguish and Triumph in its first week appeared on the New York Times bestseller list.
Thursday, April 4: Lecture
Time: 5:00 p.m.
Place: Rush Rhees Library, University of Rochester Humanities Center, Room D
Admission: Free
Sponsor: University of Rochester
Laura Dassow Walls, William P. and Hazel B. White Professor of English at the University of Notre Dame, will deliver the University of Rochester's 2019 George Ford Lecture, titled "The Death of Nature and the Life of Thoreau."
Walls is the author of Henry David Thoreau: A Life, published by the University of Chicago Press. The first full-length, comprehensive biography of Thoreau in a generation, Walls's book draws on extensive new research and the full range of Thoreau's published and unpublished writings to present Thoreau as vigorously alive in all his quirks and contradictions — fully embedded in his place and time, yet speaking powerfully to the problems and perils of today.
Friday, April 5: Film, Henry David Thoreau, Surveyor of the Soul
Time: 6:00 p.m.
Place: The Little Theatre, Rochester
Admission: Free
Sponsor: SUNY Geneseo
The Little will screen independent director Huey Coleman's feature-length film, Henry David Thoreau, Surveyor of the Soul. The screening will be followed by a conversation between the filmmaker and Thoreau biographer Laura Dassow Walls.
For thirty years, Huey has been making films about artists, education, the environment, and Maine. His films have been shown at film festivals throughout the US, on PBS, and on European television. Surveyor of the Soul explores Thoreau's life and the impact of his writings on environmental issues, civil rights, and individual thinking in our time. It includes appearances by Bill McKibben, Howard Zinn, Robert Bly, Rep. John Lewis, and Thoreau biographer Laura Dassow Walls.
Note: Huey will be on the SUNY Geneseo campus Friday, April 5 at 1 p.m. in Bailey 204 to talk about Surveyor and about his career as an independent filmmaker.