Over these past few months as the COVID-19 pandemic has raged throughout the world, humans have experienced a societal shift never seen before. As governments enact social distancing measures and stay-at-home orders, unemployment rates have faced a steep incline accompanied with complications for different groups, particularly women. These reactionary policies to an environmental crisis have resulted in several problematic circumstances that directly affect women, both within the household as well as in public life.
Occupational Differences
When considering gender, past economic downturns have shown that men's employment was much more affected than that of women, this is opposite to that of COVID-19, in which more women face the potential of loss of employment (Alon et al. 2020). This NPR article reveals that women accounted for 55% of job losses last month, despite making up 49% of the workforce prior. This can be attributed to different sectors of the economy and if they are considered 'critical' as well as if the nature of work allows for telecommuting; most job losses have been in restaurants and hospitality, both of which have high female employment (NPR 2020). Additionally, it is crucial to protect and support the global health workforce, 70% of whom are women (Papp 2020), and to ensure they are trained, resourced, and properly equipped. Furthermore, we must recognize that women's traditional role as family caretaker for sick family members further increases exposure to infectious diseases and exacerbates the vulnerability of women in such a pandemic.
Loss of Schools and Childcare
The coronavirus pandemic further complicates women's lives and employment when considering the large-scale closures of schools and daycare centers, implicating that children remain at home where they need to be cared for and educated. Single parents will be the hardest hit by these policies as many will struggle with the sharp spike in child care needs, especially single mothers who make up just under 70% of all single parent households (Alon et al. 2020). Within married couples the increase in childcare will be determined by the current work arrangements, existing child care disparities, as well as ability to telecommunicate. Research shows that married women provide more childcare than married men on average, this existing division of labor will make it very likely that the increase in childcare will fall disproportionately on women. With little potential for accessing other sources of childcare under social isolation orders and limited possibility to continue working during the crisis, it is evident that women, particularly single mothers, will be dramatically affected by these rising childcare requirements.
Domestic Violence
Coronavirus brings with it many new stressors, including health risks, isolation, closures of schools and businesses, economic vulnerability and job loss. Such stressors can have significant negative impacts on homelife and may lead to increased vulnerability of women and children to domestic abuse. Studies have shown that family violence and sexual violence can escalate during and after disasters and crisises, and it is probable that the home isolation associated with COVID-19 will only put people in these abusive relationships more at risk (Bradbury 2020). This article from the New York Times shows the global impacts of this pandemic on domestic violence and the safety of women throughout the world. For many domestic violence victims home is not a safe place, it is usually where abuse occurs often without scrutiny from outsiders. Restrictive policies on movement shut off avenues of escape, help-seeking, and coping mechanisms as well as empowering abuser's tactics of control and surveillance. It is critical that we support and protect the frontline staff of vital health services and specialist services that assist domestic and sexual violence victims. While it should be recognized that men experience domestic abuse as well, women are disproportionately affected and thus will have significant disparities from coronavirus. The National Domestic Violence Hotline provides advice, support, and resources to help all victims and survivors stay safe during this pandemic.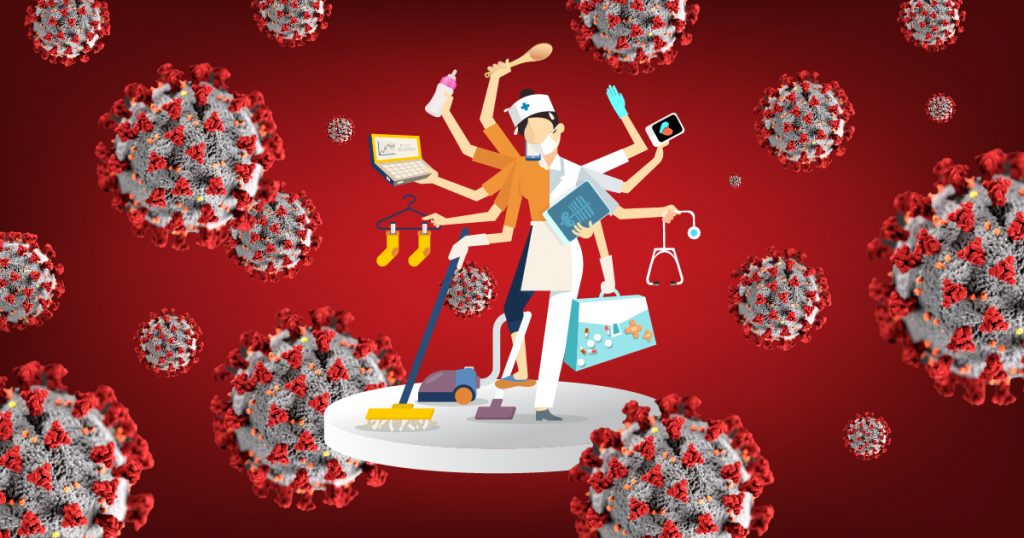 Lessons from the Pandemic for Ecofeminism
In an interview of scholar and activist Ariel Salleh, she describes ecofeminism politics to be based on "women's daily efforts to survive with their communities in an increasingly death-risking, profit-driven masculinist culture" (Kothari 2017), resonating with the current struggles that women are facing as they are trying to survive in the face of this pandemic. As women are responsible for the bulk of care work and sustaining the lives of their families everyday, it is no surprise that the effects of this pandemic will directly affect their day to day lives. Additionally, ecofeminists argue that the "feminization of poverty" seen globally is rooted in women's lack of educational and economic opportunity with a continuous association of familial roles (Hessing 1993). This significant social disparity will only be enhanced by the coronavirus, and a lack of consideration to women in policy-making has worsened the effects as well. The lack of response directed toward assisting women and other vulnerable groups, such as the homeless and disabled, can be attributed to the stark under-representation of women in political decision-making positions.
The United Nations Women have continuously focused on the impact of the COVID-19 response on gender equality, providing this video addressing 4 key actions needed to implement women's concerns into the COVID-19 response:
References
Alon, Titan M, Matthias Doepke, Jane Olmstead-Rumsey, and Michèle Tertilt. 2020. "The Impact of COVID-19 on Gender Equality." Working Paper 26947. Working Paper Series. National Bureau of Economic Research. https://doi.org/10.3386/w26947.
Bradbury‐Jones, Caroline, and Louise Isham. n.d. "The Pandemic Paradox: The Consequences of COVID-19 on Domestic Violence." Journal of Clinical Nursing n/a (n/a). Accessed May 1, 2020. https://doi.org/10.1111/jocn.15296.
Hessing, Melody. 1993. "Women and Sustainability: Ecofeminist Perspectives." Alternatives (Waterloo) 19 (4): 14-21.
Kothari, A. (2017, September 27). Ecofeminism and Radical Ecological Democracy. Radical Ecological Democracy. https://www.radicalecologicaldemocracy.org/ecofeminism-and-radical-ecological-democracy/
Papp, S., & Hersh, M. (2020). A gender lens for covid-19. Barton: Newstex. Retrieved from https://proxy.geneseo.edu/login?url=https://proxy.geneseo.edu:5742/docview/2384635135?accountid=11072
Megan Fisher is an International Relations major with a concentration in the Developing World. She will be graduating in May 2020 with hopes of attending law school in the future to work in environmental and gender law.