Imagine being the leader of an entire country denying a global pandemic, only to test positive for the virus… and then transmit it to your wife. This is exactly what Brazilian President Jair Bolsonaro has done. The leadership of President Bolsonaro during the pandemic is threatening Brazilian democracy and the safety of its citizens.
Brazil as a Democratic Nation
According to the Freedom House Index, Brazil is considered a free country. Freedom House provides a maximalist view of democracy that measures how democratic a country is while taking a heavy focus of consideration on civil rights and civil liberties. On their scale, Brazil received a total score of 76/100 and a status as free. A ranking as "free" indicates a majority of democratic criteria are met, as opposed to ranking as "partly free" or "not free" . Many scholars, professionals, and political scientists use data from the Freedom House to understand different countries regimes. However, what if the data doesn't match up to what is actually happening internally? According to a study done by Pew Research Center in 2018, eight-in-ten or more Brazilians are dissatisfied with their state of democracy. These numbers were before the election of Bolsonaro, and now under his leadership, it is likely that a Brazilian "democracy" may no longer exist.
Brazil Pre-COVID
The 2019 film The Edge of Democracy, sheds light on the corruption, protests, and violence happening in Brazil, a so-called democracy, prior to the pandemic. After 21 years of military dictatorship, Brazil finally achieved democracy in 1989. However, director Petra Costa argues that what should have been a utopian city that would house democracy, became a short-lived dream. In the years leading up to the Covid-19 global pandemic, Brazil has and continues to face ongoing corruption, poverty, and violence, indicative of their authoritarian past. These measures are being exacerbated due to the pandemic and lack of action taken by Bolsonaro. The country that has been seen as a free democratic regime has been in jeopardy for too long and this global pandemic might just lead to the end of Brazilian democracy.
Bolsonaro and Coronavirus
Brazilian President, Jair Bolsonaro, is a far right ex-army officer who has supported authoritarianism, resembling that of Brazil's past. He has shown incredibly weak democratic commitments to Brazil since his inauguration in early 2019. After two previous presidencies that were built on corruption, one ending in impeachment and the other in imprisonment, Brazil's democratic regime is threatened even more so by the coronavirus pandemic currently plaguing the country under the presidency of Bolsonaro. Due to the minimal safety measures taken by Brazil to stop the spread of the virus, Latin America became the epicenter of coronavirus cases with 2.73 million positive cases and 94,130 deaths, making recovery extremely difficult. "As governors sued the president successfully to continue their quarantine policies and the Brazilian congress passed a generous compensation package for Brazil's large informal sector, Bolsonaro continued to deny the risks of Covid-19, fired his health minister, and joined demonstrations against social isolation" (Murillo 2020). Under Bolsonaro's orders, coronavirus cases were no longer being counted and neither was additional data. Chloroquine, a drug used to treat malaria, became Bolsonaro's treatment option for the virus, despite no substantial scientific evidence to support its treatment efficacy. It was only shortly after Bolsonaro denied the existence of a pandemic that he and his wife tested positive for the virus.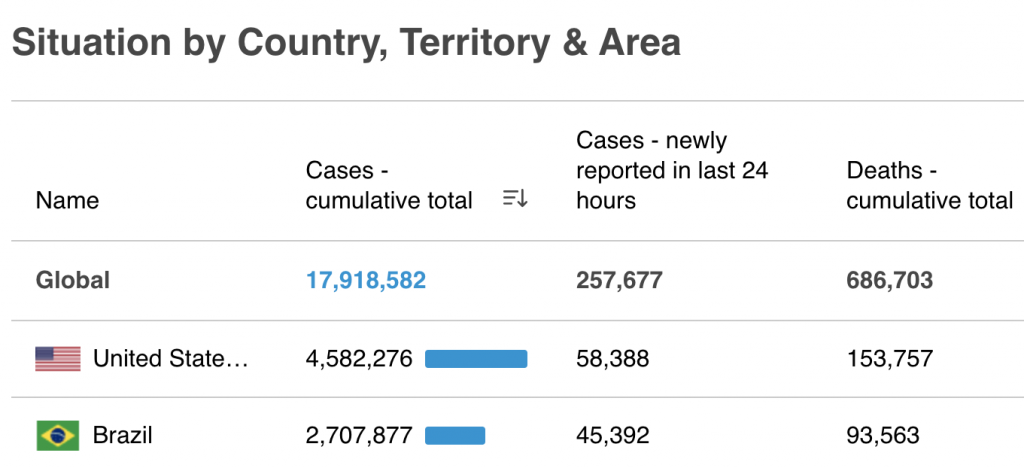 Democratic Backsliding and Hybrid Regimes
The pandemic has threatened the livelihood of Brazil's democracy. Furthermore, under the leadership of Bolsonaro, the country risks substantial democratic backsliding. Nancy Bermeo, author of the article "On Democratic Backsliding", defines democratic backsliding stating, "it denotes the state-led debilitation or elimination of any of the political institutions that sustain an existing democracy". Bolsonaro's authoritarian leadership during the Covid-19 pandemic is the biggest threat for a democratic backslide. During difficult times like these, real governance is exposed and the situation sheds light on a multitude of areas in which democratic measures are not met. For example, censoring media on coronavirus material, confusion from the government about safety measures and quarantine, and even a lack of face to face communication affecting polling which could result in fraud or inaccurate data. For Brazil, this could mean falling into a hybrid regime. This is best described in the works of Larry Diamond, who termed hybrid regimes for their characteristic of governance having democratic and authoritarian tendencies.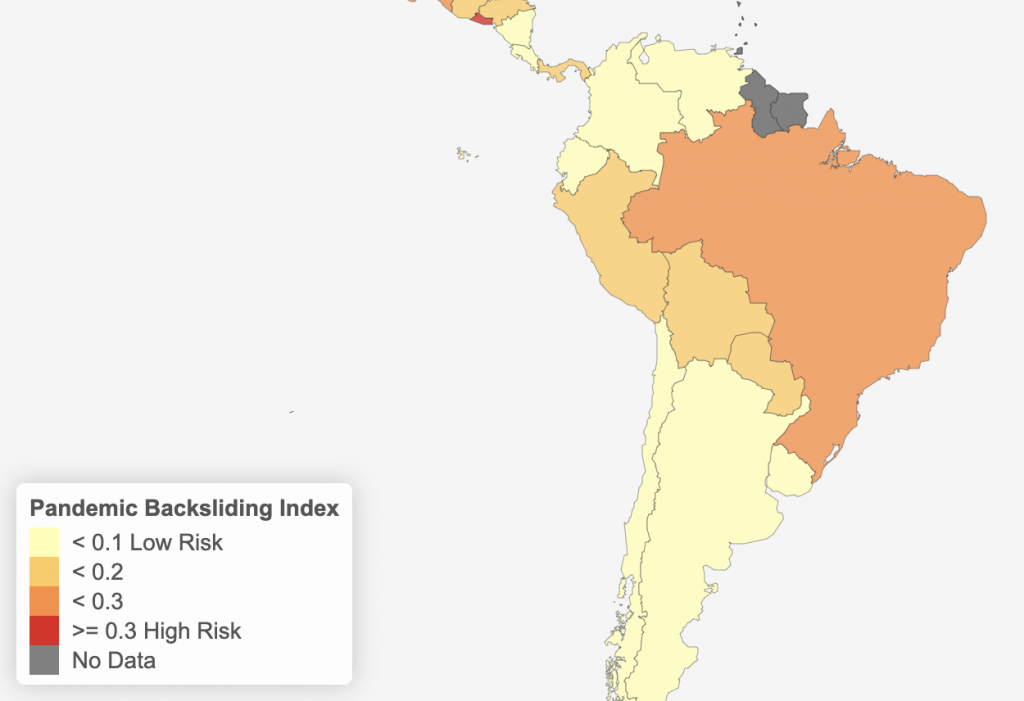 An Uncertain Future
The global pandemic caused by the outbreak of coronavirus has caused serious threats to the health, safety, and security of individuals all around the world. On top of these deadly crises, governments are in crucial danger of upholding their regimes. In times like this, it is important for leaders to be leaders and to help their respective countries fight and stay strong. This is far from what President Jair Bolsonaro has done for the Brazilian people, therefore as a result of his actions and lack of action, Brazil is at high risk for coronavirus and democratic backsliding.
Alexandria Dirschberger is a senior at SUNY Geneseo, majoring in International Relations with a Developing World track. She will graduate in May 2021.
References
BBC News. 2019. "Brazil's Lula: From president to prisoner." June 11. https://www.bbc.com/news/world-latin-america-10841416
Bermeo, Nancy. 2016. "On Democratic Backsliding." Journal of Democracy.
2019. The Edge of Democracy. Directed by Petra Costa.
Cueto, Marcos. 2020. "Bolsonaro's Chloroquine: Epidemics, History, and Social Inequality in Brazil." Social Science Research Council, July 09. https://items.ssrc.org/covid-19-and-the-social-sciences/disaster-studies/bolsonaros-chloroquine-epidemics-history-and-social-inequality-in-brazil/
2020. Freedom House. https://freedomhouse.org/country/brazil/freedom-world/2020.
Edgell, Amanda B., Anna Lührmann, Seraphine F. Maerz, Jean Lachapelle, Sandra Grahn, Ana Flavia Good God, Martin Lundstedt, Natalia Natsika, Palina Kolvani, and Shreeya Pillai, Abdalhadi Alijla, Tiago Fernandes, Hans Tung, Matthew Wilson and Staffan I. Lindberg. 2020. Pandemic Backsliding: Democracy During Covid-19 (PanDem), Version 3. Varieties of Democracy (V-Dem) Institute, www.v-dem.net/en/our-work/research-projects/pandemic-backsliding/
Kent, David. 2019. "The countries where people are most dissatisfied with how democracy is working." Pew Research Center, May 31. https://www.pewresearch.org/fact-tank/2019/05/31/the-countries-where-people-are-most-dissatisfied-with-how-democracy-is-working/
Murillo, María Victoria. 2020. "Elections and Protests in Latin America: Covid-19's Impact." Social Science Research Council, May 28. https://items.ssrc.org/covid-19-and-the-social-sciences/democracy-and-pandemics/elections-and-protests-in-latin-america-covid-19s-impact/
Organization, World Health. 2020. WHO Coronavirus Disease (COVID-19) Dashboard. August 03. https://covid19.who.int/.