Seven Geneseo students represented the English department last week at this year's convention of Sigma Tau Delta, the international English honor society. The students — Noah Chauvin, Ariana Dipreta, Jeremy Jackson, Elizabeth Landrum, Megan Meadows, Zachary Muhlbauer, and Michelle Mundt — were accompanied by Prof. Gillian Paku, faculty advisor to Geneseo's chapter of the society.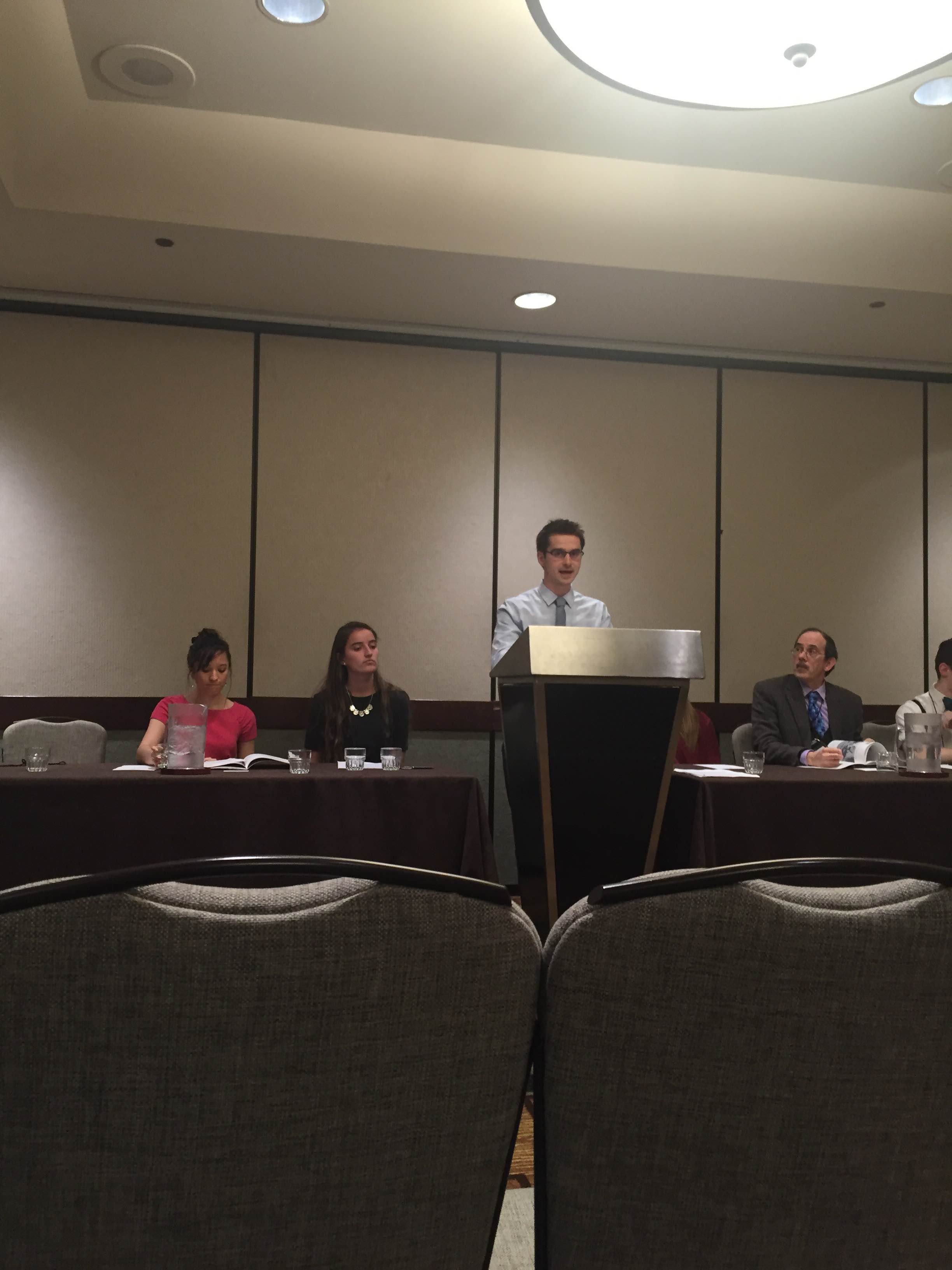 Over the course of three days, the students presented their peer-reviewed work in front of engaged and enthusiastic audiences. Each student participated in a panel with papers on related topics (James Joyce, Oscar Wilde, issues of race or postcolonialism), offering opportunities for members of the audience to pose questions and for presenters to establish running dialogues among themselves. Showing great support for one another, the students attended the panels of their Geneseo peers, along with many other panels of interest, be it one focused on C.S. Lewis and J.R.R. Tolkien, on African American literature, or featuring creative nonfiction on addiction and depression.
[See more photos from the convention.]
There were numerous ways to network and meet like-minded peers, domestic and international, as well as chances to explore the cultural backdrop of Minneapolis, from performances at the renowned Guthrie Theatre to wandering the huge Mall of America, plus the occasional gathering at an Irish pub. As has been the case for several years now, the Geneseo group also took home one of the convention prizes for best submissions, with Noah's creative non-fiction essay, "For Want of Syncope," winning second place as a response to the convention's common reader, Charles Baxter's The Soul Thief (2008).
All students who are members of Sigma Tau Delta are eligible to submit to the convention, a competitive process. Next year's convention will be held March 29 – April 1 in Louisville, KY, where one of the featured speakers will be Marlon James, recent winner of the Man Booker Prize.
Submissions are usually due at the end of October, and the Sigma Tau Delta student e-board is always happy to help with the process and keep our excellent tradition of participation strong.