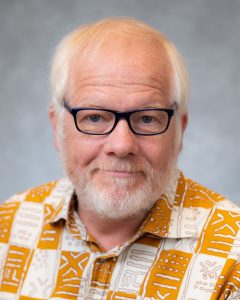 Wes Kennison '79, faculty fellow for international programs, was recently awarded the Nina Mitchell Award for Distinguished Service by United University Professions (UUP), the nation's largest higher education union. It is the union's highest honor.
Kennison received the award at the UUP Fall Delegate Assembly on Friday, Oct. 15.
UUP President Fred Kowal says that Kennison has consistently demonstrated consensus building, connecting different groups within the union to achieve contracts that represent everyone.
Kennison, whose several roles at Geneseo also include faculty fellow for the Office of International Programs, has been active in UUP for more than 25 years. The UUP publication The Voice noted Kennison's involvement in the 2000 Negotiations Committee, serving as a representative for part-time faculty and staff and helping to secure them health insurance benefits. He continued to advocate for union members who are part-time as part of the UUP executive board and has been active in community service, including serving two terms as Geneseo town supervisor and chairing both Catholic Charities of Livingston County and SUNY Geneseo's InterFaith Center.