from the kitchen of Chef Matt Kershner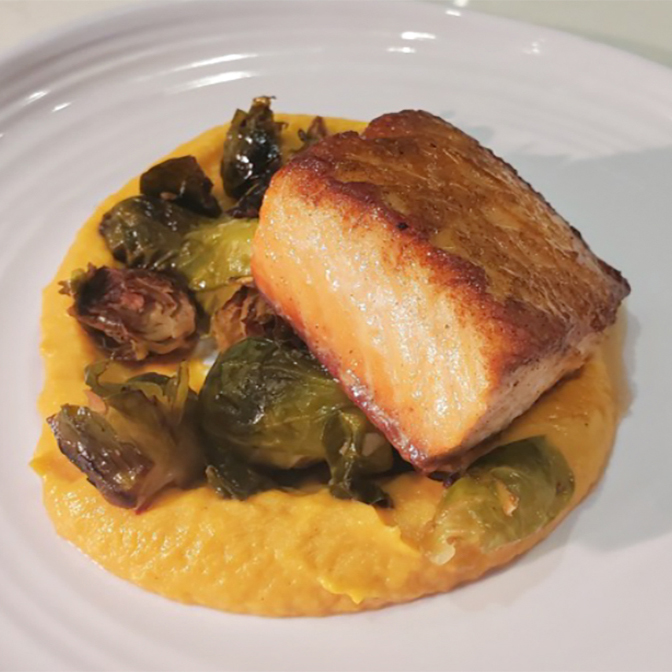 12 Servings
| | | |
| --- | --- | --- |
| Amount | Unit | Ingredients |
| 8 | lb | 1 side, Fresh atlantic salmon |
| 7 | Tbsp | Olive oil |
| 1 | cup | 100% authentic maple syrup |
| 2 | lb | Brussels sprouts |
| 5 | lb | Butternut squash |
| 1/2 | lb | Butter |
| 1 | cup | Heavy cream |
| 1/4 | cup | Brown sugar |
| 5 | leaves | Fresh sage |
| | | Salt and pepper to taste |
Maple Glazed Seared Salmon

Remove skin from salmon fillet, and cut into 6 oz portions, approximately 6 pieces per side.
Season with salt and pepper to taste.
Heat olive oil in large frying pan until oil is almost to the smoke point.
Sear salmon, skin side up, until golden brown and crispy. Transfer to parchment lined sheet tray.
Using small brush, brush each fillet with maple syrup.
In 400-degree preheated oven, roast salmon for approximately 10 minutes, or until salmon reaches internal temperature of 145 degrees. Serve immediately

Roasted Brussels Sprouts

In a large mixing bowl, drizzle sprouts with oil, and salt and pepper liberally. Toss to coat evenly.
On prepared sheet tray, roast sprouts in 400 degree oven for 15-20 minutes, or until golden brown and crispy.
Serve immediately

Butternut Squash and Brown Butter Puree

Toss butternut squash lightly with sauté oil, and bake on greased baking sheet in 400 degree oven for 25 minutes, until squash is tender and golden brown. Reserve.
In stock pot, brown butter until nutty and fragrant. Add in sage at this point.
Add butternut to pot and combine thoroughly. Using immersion blender, add in brown sugar and heavy cream and puree until smooth and creamy. Season to taste with salt and pepper. Serve immediately.
Chef Matt Kershner
"The journey is part of the experience—an expression of the seriousness of one's intent. One doesn't take the A train to Mecca." – Anthony Bourdain