from the kitchen of Chef Matt Kershner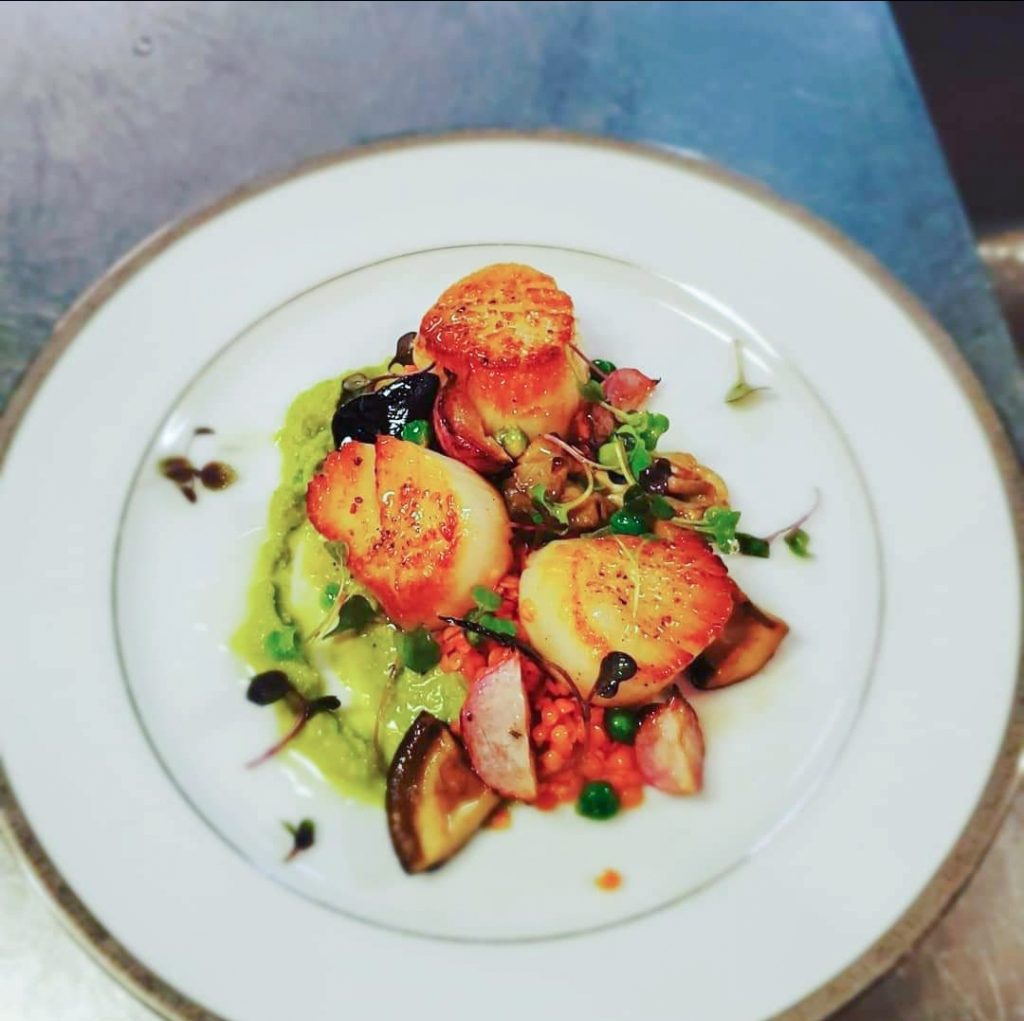 This recipe serves 1-2 people depending on the number and size of scallops
---
Equipment Needed
1 – Cast Iron Skillet
2 – Blender
3 – Sheet Tray
---
Ingredients
| | | |
| --- | --- | --- |
| Amount | Unit | Ingredients |
| 3 | | Scallops |
| | | Whole butter, for searing |
| 2 | cups | English peas, blanched and shocked |
| 12 | leaves | Mint |
| 2 | tsp | salt |
| | | Water, for consistency |
| 4 | medium | Shiitake mushrooms |
| 3 | tbsp | Oil |
| | | Salt and pepper, to taste |
| 2 | small | Shallots, quartered |
| 5 or 6 | | Radishes, halved |
| | | Oil, for tossing |
| | | Salt and pepper, to taste |
Diver Scallops
Preheat oven to 400℉. Clean your scallops by removing the tendons from the sides. Pat the scallops dry with a paper towel and season them well with salt and pepper. In a cast iron skillet, sear one side of the scallop over medium heat using whole butter. Place the seared scallops in the oven to finish cooking (approximately 3 minutes).
Mint and Pea Puree
In a blender, blend the peas, mint leaves, and salt together. Add water as needed to adjust the puree consistency to your liking. Place the blended mixture in the fridge to cool. Hold for no more than 1 day.
Roasted Mushrooms
Remove the stems from your mushrooms and wash thoroughly. Cut the caps of your mushrooms into quarters. Coat your mushrooms in oil and season as desired. Place the coated mushrooms onto a sheet tray and bake in a 400℉ oven for 15 minutes or until golden brown.
Roasted Radishes and Shallots
Toss your radishes in oil, salt, and pepper. Place onto a sheet tray and roast for 7 minutes in a 400℉ oven. Toss your shallots in oil, salt, and pepper. Take the sheet tray containing your radishes out of the oven. Add the coated shallots to the tray of radishes and place back into the oven. Continue roasting for 8 minutes or until golden brown.
---
"For a moment or a second, the pinched expressions of the cynical, world-weary, throat-cutting, miserable bastards we've all had to become disappears, when we're confronted with something as simple as a plate of food."
– Anthony Bourdain

Matthew Kershner
---