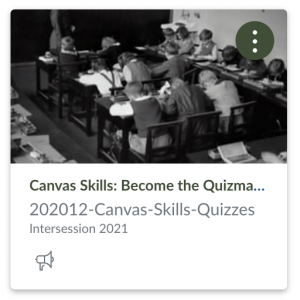 CIT's EdTech team just completed the first in a series of Canvas mini-skills courses, "Become the Quizmaster General." A facilitated session of this professional development course ran the week of January 18th, which included opportunities to connect with the facilitator and other members of the cohort over the course of a week during Intersession.
This mini-course focuses on best practices for Canvas Quizzes. Focus areas include:
setting availability and due dates
modeling workflows for moderating quizzes
establishing special quiz settings for individual students (i.e., those requiring extra time)
randomizing questions
building effective quiz banks
understanding quiz analytics
Current Geneseo faculty contributed quizzes, surveys, and tests they use in their Canvas courses to serve as real-life models. These received a lot of positive feedback from participants, sparking comments like, "I continue to find real quiz examples used by Geneseo professors interesting and illuminating. Thank you!"
Each module of the mini-course area focuses on one aspect of quiz delivery, from understanding the types of quizzes Canvas offers, to designing quizzes, to understanding the student results. The feedback feature on each possible answer for a multiple-choice question was revelatory to many: "I learned how to add Feedback Comments to quizzes – I didn't even know that was an option before!"
Though the facilitated session has concluded, the self-paced training remains open to users throughout the spring semester. Click here to enroll yourself and check out its contents. You can take the course in order, or skip around to the parts that will be most useful to you.
Facilitated sections of this Canvas Skills Course will be repeated throughout the year. Please suggest additional areas of Canvas you'd also like to see addressed, as more mini-courses in this series will be forthcoming from our team.