Canvas operates on a three-week release cycle through which features are added or updated; feature releases in the production environment take place on the third Saturday of every month. SUNY Geneseo's EdTech team posts highlights from Canvas's production release notes, a link to these notes, and other relevant content to our blog a few days before the production release, which usually occurs on Saturdays. Please contact the Canvas Support Team if you have any questions about an upcoming production release.
Dashboard: Course Card View
Users whose Dashboard is set to "Card view" are now able to remove a course from their favorites directly from the Dashboard.
Select the three vertical dot options menu for the course you want to unfavorite
Click the Move tab
Select Unfavorite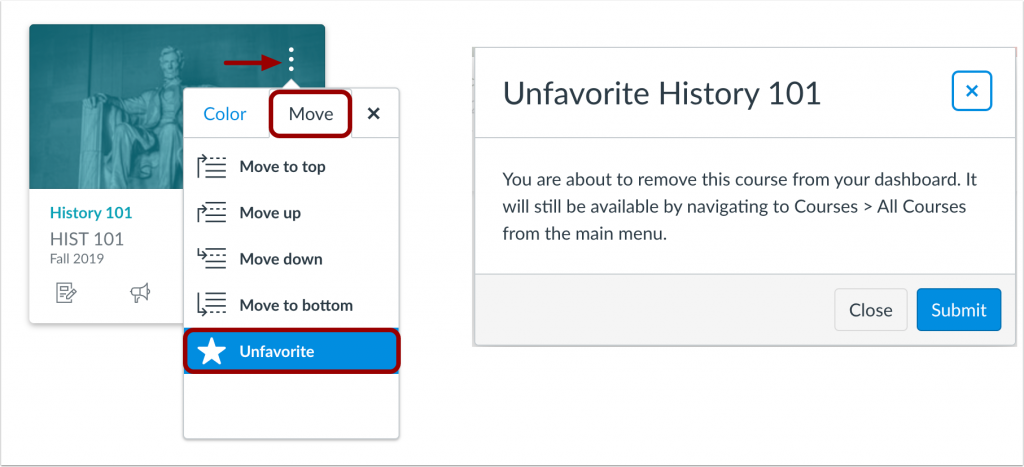 Canvas will prompt you to confirm before removing a course from the Dashboard. Note that the option to Unfavorite does not display for users without favorite courses. In this case, all courses to which the user has access will display on the Dashboard. You can follow these steps to customize the Dashboard by favoriting courses, including re-favoriting a course to return it to the Dashboard.
You can find the full 11/16/19 Canvas Release Notes document, available from Instructure, within the Canvas Community. You do not need to log in to access this content.
Please contact Geneseo's Canvas Support Team with your questions. Reach us by email (canvas@geneseo.edu) or through the Canvas Hotline at 585.245.6000 (weekdays 8AM – 4PM). Happy learning!