Canvas operates on a three-week release cycle through which features are added or updated; feature releases in the production environment take place on the third Saturday of every month. SUNY Geneseo's EdTech team posts highlights from Canvas's production release notes, a link to these notes, and other relevant content to our blog a few days before the production release, which usually occurs on Saturdays. Please contact the Canvas Support Team if you have any questions about an upcoming production release.
Notifications
Users can enable Slack as an additional contact method through which to receive Canvas notifications.
Displays the "Slack Email" communication option in the "Register Communication" contact method window
Enter the Slack email address to receive a four-character confirmation code, via Slack Direct Message, from the Slack App
Once verified, the user can adjust Slack notifications away from the default
Slack notifications will include the course name and notification type (i.e., new assignment, submission comment, etc.) only – users will need to click into Canvas for full information
Any user with a Slack account can register their Slack email address as a contact method.

Users must activate the communication channel by entering a four-character confirmation code that will be sent via message from the Slack App.

Slack notifications should be personalized in the Notifications Preferences page. By default, all Slack notifications are set to never be sent.
*UPDATE: This feature is available within SUNY Geneseo's Canvas instance as of 11/5/19.
Navigation
The Course and User menus have been updated to include visual indicators for active menu items; menu functionality has not been impacted. The course navigation menu also includes indicators (i.e., the eye icon with a diagonal slash) to clearly identify items inaccessible to students.
Items in the course navigation menu may be inaccessible to students because the instructor has chosen an alternative path to guide learners through content and/or the item is absent of content
By hovering over the menu item to display the corresponding tooltip, instructors can confirm why a specific menu item is hidden from the student view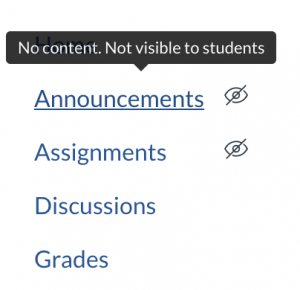 All inactive links will display in Geneseo-blue as shown above; active links appear in black with a vertical line to the left
If high-contrast mode is not enabled, hovering over a link includes an underline and, when selected, a thin border surrounds the selected menu item
New Gradebook: Post Policy Icon Updates
When an assignment is set to post grades manually, the hidden icon (e.g., the eye with a diagonal slash through it) has been replaced with the word "MANUAL" in the gradebook.

The gray hidden icon no longer transitions to orange (with a dot) when grades have been entered for an assignment set to releases grades manually. The solid orange eye icon is no longer used.

This is the eye icon with a diagonal slash, indicating the availability of grades to post for an assignment set to manually post grades.
*NOTE: There is robust conversation in the Canvas Community surrounding this update. The suggestion to move "MANUAL" before the assignment's point value has gained consensus. As of 10/17, the Release Communications Manager for Instructure Canvas was not yet aware of a ticket to effectuate the change but notes "If the change is made it will be in a future release."
You can find the full 10/19/19 Canvas Release Notes document, available from Instructure, within the Canvas Community. You do not need to log in to access this content.
Please contact Geneseo's Canvas Support Team with your questions. Reach us by email (canvas@geneseo.edu) or through the Canvas Hotline at 585.245.6000 (weekdays 8AM – 4PM). Happy learning!