The Canvas "Dashboard" is the landing page upon which your "Course Cards" appear. Within this post we will discuss how to manage what content appears on your Dashboard as well as how to organize it to your liking. Simple tricks such as providing your course a nickname or changing your course card's color can go a long way to making your Canvas experience a more effective one.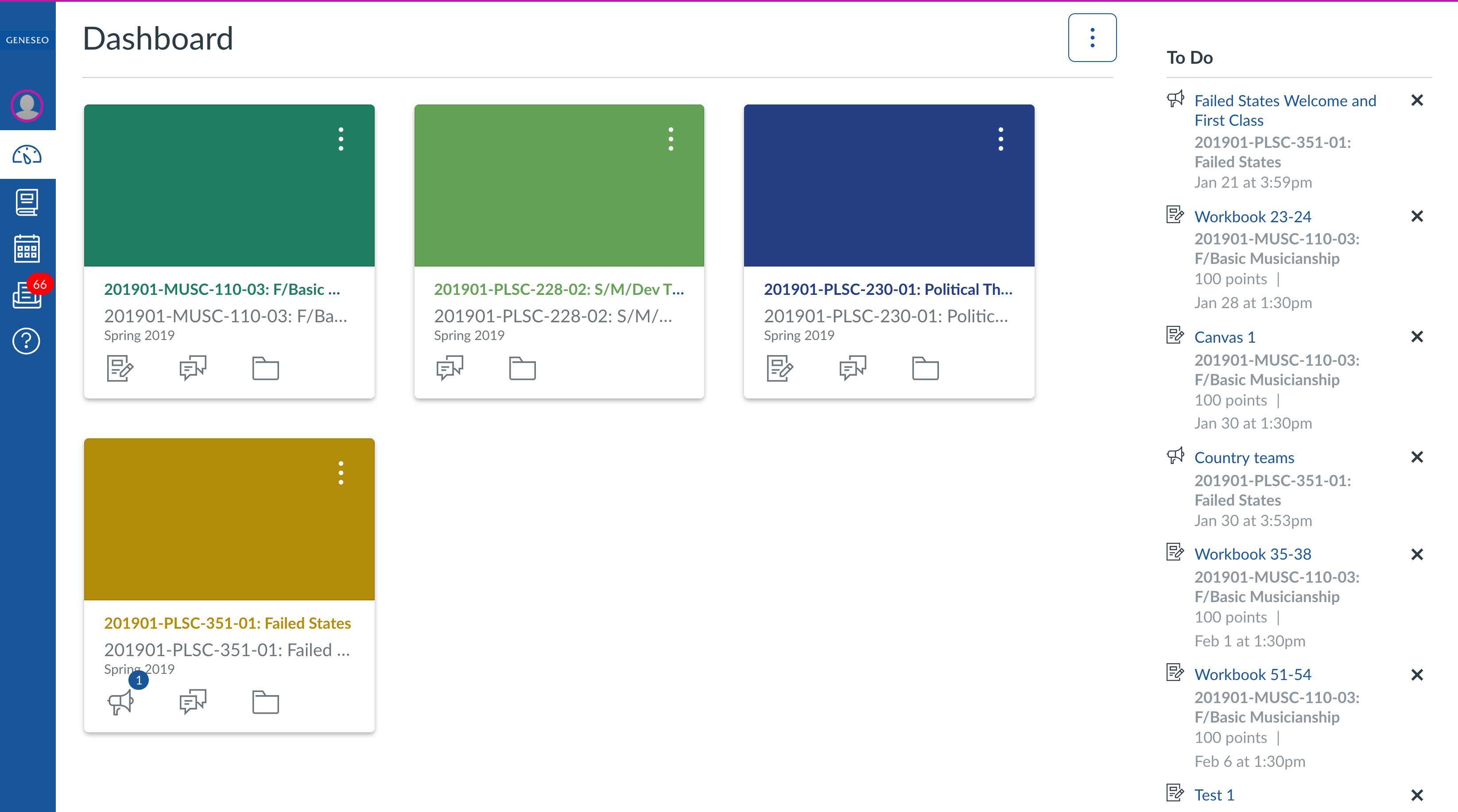 Accessing Your Dashboard

By default the Dashboard is the first thing you see when you login to Canvas. From here you can easily select which course you wish to interact with by clicking on the appropriate "Course Card." You can return to your Dashboard at any time during your Canvas experience by selecting the "Dashboard" icon in the Global Navigation menu along the left-hand side of your screen. This can be useful for quickly switching from one course to another.
Course Cards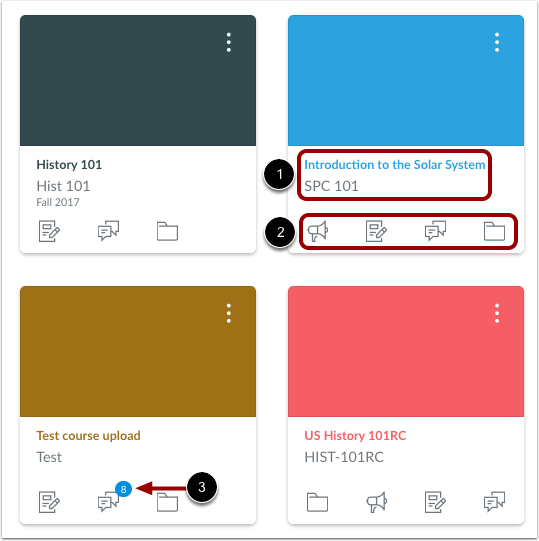 Course Cards show an overview of course information including the (1) course name.
Each card can include up to (2) four tabs, which represent four main Canvas features for student engagement: (2a) Announcements, (2b) Assignments, (2c) Discussions, and (2d) Files.
These tabs mimic visibility and order in Course Navigation, so for instance, if an instructor hides the Announcements link, the Announcements tab will not display on the course card.
An (3) unread icon on the Discussions or Announcements tab indicates that there is a new discussion or announcement in the course. The number in the icon indicates the number of new items.
Managing Course Cards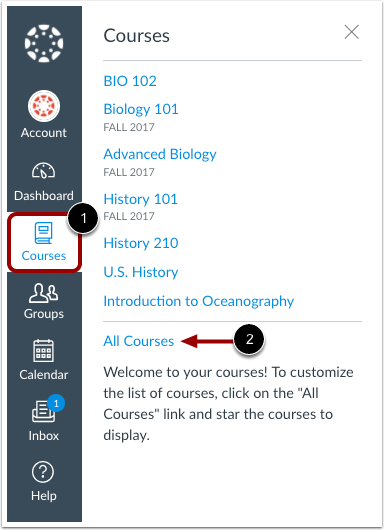 The Course Cards that populate your Dashboard each represent a course you are associated with. You can determine which Course Cards appear on your Dashboard by selecting (1) "Courses" then (2) "All Courses" which will provide you with a list of past, current and future enrollments. From your list of current enrollments you may select your "Favorites." After doing so their course cards will appear on your Dashboard. If a course isn't already on your Dashboard check here before becoming concerned about enrollment status.

Customizing Course Cards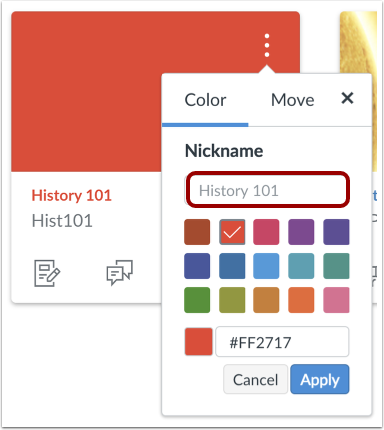 As you may have noticed, within Geneseo's instance of Canvas we have very specific course names generated by following a specific format (YEAR/Semester-Department-Course Number-Section: Descriptive Title) While very descriptive it can be less useful for the untrained eye. For this reason Canvas makes the addition of a course "Nickname" available. By selecting the three vertical dots in the upper right hand corner of any of your Course Cards you can access a drop down menu that will provide you a place to type in a Nickname for the course in question. This Nickname is viewable only by you. This will make finding your course on your Dashboard, Calendar, and Inbox within Canvas much easier!
Within this same drop down menu you will see a palate of colors from which to select that will allow you to select a new color for that Course Card. The associated color in the Canvas Calendar will also be changed to easily allow you to pick out that course from among those you're associated with.
Faculty should also be aware that they can add an image to their courses' Course Cards which can help them stand out on students' Dashboards. This option is located in the "Settings" section of your courses under the "Course Details" tab. From the "Choose Image" box you can either upload a file from your computer or select one from Flickr images in the public domain.
Finally, Drag and Drop Those Course Cards!
Until recently the order in which Course Cards appeared on one's Dashboard was limited to alphabetical by class name. Due to a recent Canvas update you can now drag and drop your Course Cards into whatever order you please. Coupled with Nicknames and Color options this should make identifying one's favorite courses fast and simple. It's the little things that make us happy pandas!
Sources Stolen From:
How do I add an image to a course card in the Dashboard?
How do I view my favorite courses in the Card View Dashboard as an instructor?
How do I use the Dashboard as a student?